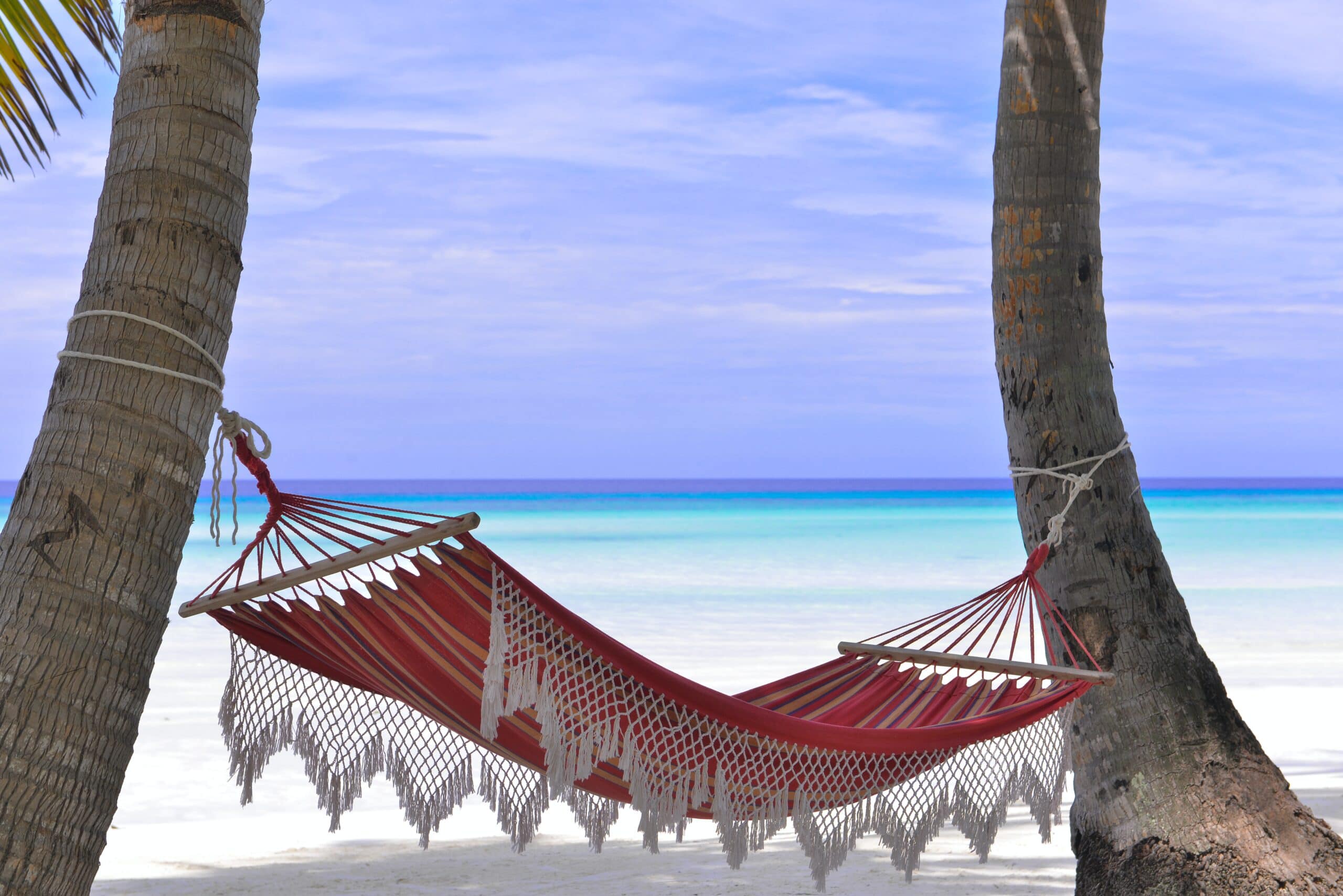 What better way to relax and get your daily dose of vitamin D than lounging on a hammock? Reading your favorite book or wanting a good sleep is best done over this special kind of swing.
Having a hammock is a great way to loosen up after a days' work. You might think that a hammock is expensive or difficult to do. Well, that is exactly the opposite. A hammock is easy to do. You can make one using the common materials you have in your home.
You can even crochet a hammock! Sounds unbelievable? Although crocheting it may take some time, it is workable. It is like crocheting a blanket, but you will have to attach it on a sturdy swing frame.
There are many ways to crochet a hammock. You can do it using your biggest hook and yarn, or crochet ropes using your hand. The latter uses the same crochet process minus the hook. You make knots and loops with your yarn or rope through your bare hands.
It may look overwhelming, but it is very easy to do. The following discussions will give you guidelines on how to make your hammock.
How Do You Crochet A Mini Hammock?
This hammock is a small one. You can use it to display or keep stuffed toys that your child plays occasionally.
You may adjust the size or the kind of yarn that you want to use. Here it goes.
Select your yarn and hook
Choose a yarn that is not too stretchy. You may use any color or size of your yarn for this project. Use a hook that you are comfortable with. If you want to use a bigger yarn gauge, then use a bigger hook.
Choose yarn or string to make this project
It can be any color and any thickness you think will look good with your toy. You may find you prefer to crochet a cotton yarn or string so that it isn't too stretchy.
Start by tying a slip knot and make 8 chains.
You can make more chains according to your desired length. Keep in mind that a hammock dangles down, so make chains that are longer than the toys.
This first chain will make the first side of your hammock. For instance, you make 108 chains; you need to add more chains as allowance. Say, you add 10 more chains; it means you will have a total of 118 chains.
The initial 8 and the last 10 stitches will make the loops of either end.
Make a slip stitch on the 10th chain from your hook. Then, make 5 chains.
From the last strip, you must count 5 stitches then make a slip stitch into it.
Next is to make three chains and do a slip stitch to connect the first stitch of your original chain.
Flip or turn your work to start your third row.
Make 5 chains and slip stitch on the third stitch from your chain of five. This forms a loop that you are over.
Continue this pattern. Make 5 chains and slip stitch into the third chain the row. You will notice that the last row is different.
Make 5 chains and connect it to the last loop using a slip stitch. Flip your work. Then make 8 chains. Connect the third chain from your last slip stitch in your previous row.
Continue your row three until you reach your desired width. Then make 8 chains and turn your work.
On your last row, make 4 chains between every slip stitch, connecting them like the previous step.
At the end of your last row after you have joined the last chain of the 5, make 8 chains. Then, loop and connect the corner of your fabric using a slip stitch. Tie it off and sew the ends. This makes the last loop for the corner.
Measure your crochet fabric. Stretch up to the extent you want. This will be your guide in making the holes for your dowel. For this type of hammock, you will drill holes with half-inch (1.27 cm.) distance.
Cut your dowels according to your desired length. Drill holes but make sure that each has equal space between.
Clean and smooth out the edges of the holes. You may have to sand the dowels to prevent splitting the yarn of your hammock fabric.
After you have smoothed out the holes. Set the dowels aside for the later process.
Get your crochet fabric and insert a string or rope in each end. These will be the strings that you will connect on your dowels.
After you have inserted the strings, get your dowels; and insert each string on each dowel hole.
When you have inserted the strings, bring them all together. Twist them and make a double knot on its end. Do the same procedure on the other side of the hammock.
Create a loop using the remaining tails of the knotted thread. You will use this to hook your hammock where you want to hang it.
You can do the same process for bigger hammocks for your kids or yourself.
How To Make A Crochet Hammock Chair?
The following steps will guide you to make a hammock chair. You can put it on your porch or under a tree. It is a perfect and relaxing way to read your book.
Get your materials
3 pieces of 1 1/4-inch (3.18 cm.) hardwood dowels, 30 (76.2 cm.) inches long
2 pieces of 5/8-inch (1.59 cm.) hardwood dowels, 36 (91.4 cm.) inches long
200 yards, 1/4-inch (0.64 cm.) macrame cord or rope
8 yards (7.32 m.), 1/2-inch (1.27 cm.) rope
4 pieces of 1-inch (2.54 cm.)wood screws
Drill and 5/8-inch (1.59 cm.) bit
Tape measure
Pair of scissors
Prepare the Dowels
Measure the dowels according to your desired length. Make sure that your dowels are a little longer than your hammock fabric. Using two of the 1 1/4-inch (3.18 cm.) dowels, measure 2 inches (5.08 cm.) on one end and 3 ½ inches (8.89 cm.) on the other end.
Drill holes on your 1 1/4-inch (3.18 cm.) dowels. Make sure that each hole has even spacing between.
Smooth out the holes. You can sand the wood and remove the splinters.
Next is to drill a tiny hole to screw and join the dowels and form a frame. Make sure the frame is sturdy.
Then, hand the framed dowels so you can braid in the ropes on it.
Get the 1/4-inch (0.64 cm.) cord or rope and cut it into 16 pieces of 26-foot length. Get one rope and fold it in the middle. Coil the rope around the dowel from front to back. Draw the tails into the loop.Do this to all the 16 cuts of rope. After you have put all the ropes, you will have 32 strands of rope hanging.
Start crossing the cords from the left going to the right. You may use a square knot to create the hammock seat. Begin with the first 4 cords or rope. Take the leftmost rope and cross it over the two center ropes then beneath the right rope.
Then, take the rightmost rope and cross it underneath the two center ropes. Then draw it up the hole crossing over the left rope.
Do the same process in reverse for the second half of your square not. Get the rightmost rope, cross it over the two center ropes then underneath the left rope.
This time, get the left rope, cross it underneath the two center ropes. Draw it up into the hole crossing over the right rope. Pull and tighten the knot. Do this with all the remaining ropes.
Your next row will use the same knotting process but you begin on the third rope. You must use two strands of ropes from every section. Ensure that every knot is even. Do this until you finish the remaining ropes.
Once your knotted ropes have reached 45 inches, secure the ends of the ropes. Then, tie each end at the bottom frame of your dowel. See to it that the knots are tight so they will not unravel when you sit on the hammock.
You may drill holes on the four ends of the frame to connect the rope that will hang your hammock. The ropes you attach on the upper end of the dowel frame must be shorter than the ropes on the lower ends.
This will create a slight upright or tilted position. You may adjust it to an upright position depending on your preference.
Hang it to a sturdy post or tree branch. You can now enjoy your hammock chair.
How Much Rope Is Needed To Make A Hammock?
If you are making a hammock for a single person, you will need a 1000 feet (304.8 m.) skein of hammock rope.
If you are using a bundle of twine, you will need approximately 2 pounds (0.91 kg.) of seine twine.
How To Make A Crochet Hammock Swing?
Making your hammock is fun and rewarding, especially when you see it hanging on your porch. You may use any yarn crafting techniques to make a hammock. You can crochet a hammock or even use knitted yarn as your hammock fabric.
This is a versatile project. If you choose to crochet a hammock, make sure to use a bigger yarn gauge and hook. The first step is to make a long crochet fabric like a blanket. Then, tie both ends with a strong rope to hang it on a hammock frame or post.
You may follow the process in the previous part of the article but use bigger and sturdier yarn. Adjust the chains according to your desired length.
The following are simple steps to make a swing hammock using a regular hammock rope. If you are ready to make one, check these guidelines out.
Gather the materials you need
1000 ft (304.8 m.) skein of hammock rope
100 ft (30.48 m.) sailing rope in a contrasting color
5 ft (1.52 m.) long dowel or bar, about 1 inch (2.54 cm.) wide
pair of scissors or utility knife
masking tape
measuring tape
2 large wall hooks
Place the wall hooks about 7 feet (2.13 m.) above the ground. Lay the dowel between them. You can also place the dowel between two curtain rods. Hang it from the ceiling or on a spot that will allow the rope to hang.
Then, measure 17 cuts of 24 inches (60.96 cm.) long of hammock rope. Make another set of 4 cuts of 24 inches (60.96 cm.) long of sailing rope.
Fold each rope in half, loop it over the dowel, and pull it back through itself
Making the Knots
For this part, all you need to do is tie alternating square knots.
Cross the left rope over the two middle ropes, then underneath the right rope.
Get the right rope behind the middle ropes up into the hole, and over the left rope.
Get the left rope behind the middle ropes, then over the right cord.
Cross the right rope on the middle ropes, then into the hole, behind the left rope.
Pull the knot tight.
Start somewhere in the center. Tie one strand of each looped rope to the strand next to it. Use a basic square knot. Then, tie a row of these ropes across the top.
Start the alternating square knots. In the middle part, you need to hold two sets of strands from two adjacent looped ropes. Around 6 inches down from your initial row of knots, use these 4 strands to tie an alternating square knot.
Do the process until you complete the entire horizontal row.
Then, move another 6 inches (15.24 cm.) down, and swap the center rope. You will notice that this one has been removed twice from the knot above.
Repeat the process for the entire until you complete the hammock net.
When you reach the edge, wrap the untied rope to the nearest knotted rope. Make a double knot to ensure that the rope will not unravel.
Continue making the square knots until you have 1 foot (30.48 cm.) remaining from the end of the ropes. Tie off the rope using a basic square knot. For these extra rope, do the same process of the basic square knot.
Take the dowel down. Push the loops and cut any extra rope. You may apply a bit of epoxy to the ends of the rope to avoid fraying.
Making your hammock is simple and fast. You may use any of your yarn crafting skills to do it. You may crochet or even knit your hammock fabric and hang it using a sturdy rope.
You may also use regular ropes and using basic square knots to sort of weave or crochet these large cords. What is important here is to hang it on a steady post or tree branch.
It is nice and relaxing to sit on a hammock, especially if it was the product of your creativity and effort.