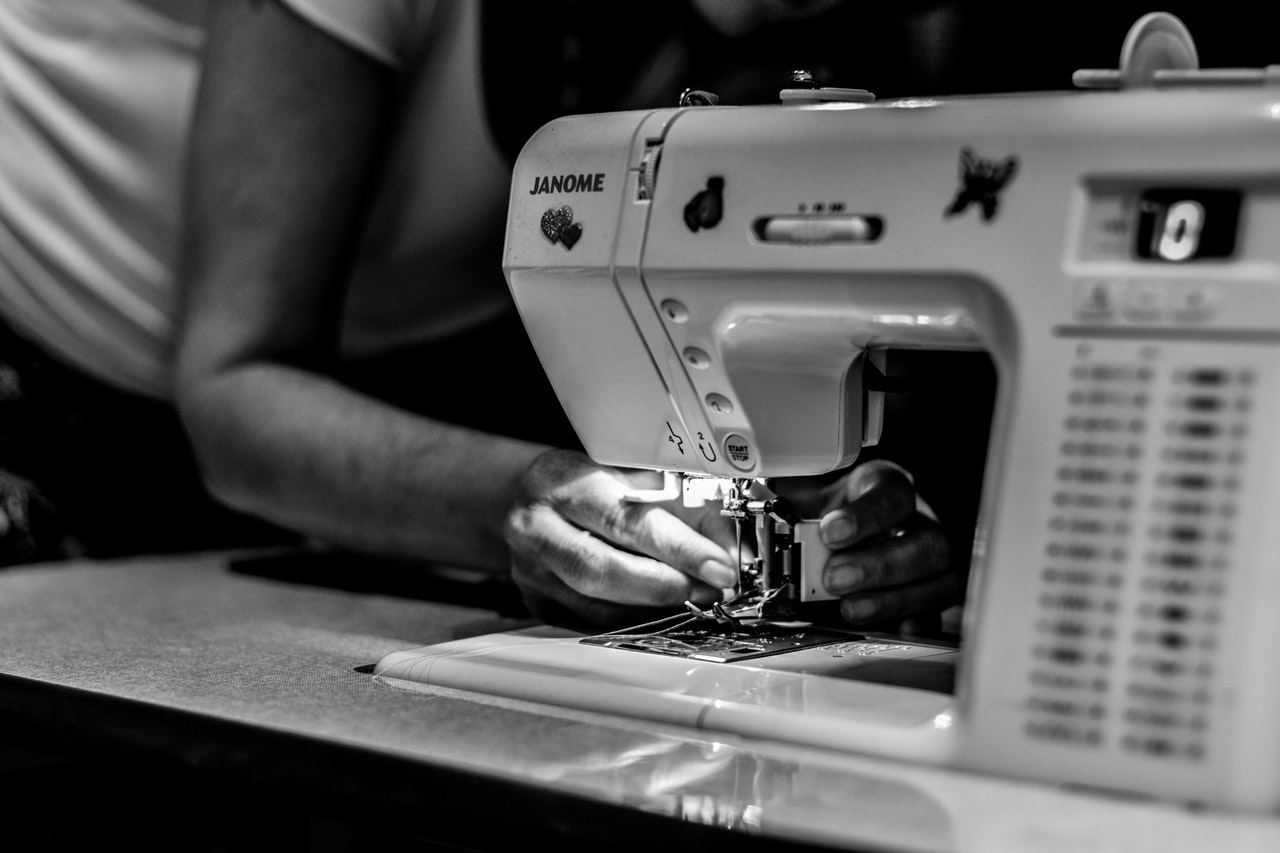 Modern sewing machines are mostly manufactured to be dual voltage. Dual voltage means that your sewing machine can run on two voltages, usually 110V and 220V. But not all brands make dual voltage sewing machines. Some brands manufacture sewing machines that come with a range of voltage options.
The older sewing machine models are usually the ones that run on a single voltage. These older sewing machines only run on one voltage capacity and a single frequency.
Some sewists who own single voltage sewing machines usually use a converter adapter or a step-down transformer to change the voltage.
Countries all over the world have different voltage ratings. Most countries in Europe, Asia, and many areas in Africa use 220V or 240V. While in the US, the voltage supply is 110V or 120V only.
Will my UK sewing machine work in the US?
A sewing machine from the UK can work in the US if you use a step-up transformer to convert the electricity from 110V/120V to 220V/240V. These voltage transformers convert the power into a different voltage so that your sewing machine can operate in the US without being damaged.
On the other hand, a step-down transformer is needed if you need a lesser voltage. You will need a transformer to use a sewing machine manufactured in the US to work in the UK or most areas in Europe, Asia, or Africa.
The work of a step-up or step-up transformer is simple. The transformer takes the supply voltage at a specific rating and converts it by decreasing or increasing it to provide the right volts to the machine.
It is also important to consider the wattage of your appliance. Since you are going to use a machine from Europe in the US, you need to buy a step-up transformer with the same number of watts as your sewing machine. If the wattage is not the same as your machine, there is a risk of burning it out.
Although this works in many sewing machines that need to convert electricity, it would be safer to check your manual for specific instructions to avoid damaging your machine. Some brands do not prefer their machines to be tampered with.
However, you will not undergo all this trouble of looking for a transformer if your sewing machine is dual voltage. If your machine is dual voltage, you can look for a switch near a label that reads 110V/60Hz or 220V/50z. After switching the voltage, you can now sew and not worry about getting your motor burned or damaged.
How many volts does a sewing machine use?
The usual voltages that sewing machines use are 110V or 220V. Some modern sewing machines have dual voltage while others have voltage ratings that can be varied.
If you want to know the voltage of a sewing machine, you can look it up on your equipment's manual, on the manufacturer's website, or written at the bottom surface of your machine.
It would be best to know early on the voltage your sewing machine uses. If it has a dual voltage, you may be able to carry it around when you travel the world. You will own a more versatile sewing machine if you can vary the voltage rating and adapt to whatever continent you may go.
You will get the voltage information of your sewing machine from the manual, so be careful not to throw it away after opening your sewing machine package. You may need vital information such as the voltage and other sewing machine data.
If you cannot find the manual, search for your sewing machine model on the manufacturer's website. You can find the sewing machine voltage along with the other machine specifications. It will indicate whether your machine has a single or dual voltage.
You can also easily find the voltage of your sewing machine at the bottom of your machine. Turn your machine upside down, and you will find a voltage label that would read something like 110V – 240V.
Are Singer sewing machines dual voltage?
The Singer brand makes sewing machines that run on either 110V or 220V, meaning some Singer Sewing machines are not dual voltage. However, Singer also makes sewing machines that you can change the voltage ratings.
The Singer sewing machines, which run at 220V, are most appropriate to use in Europe but not in the US, which usually uses 110V. Some Singer models like 4452, 7363, and 1340 works on both 120V or 240V.
Different sewing machine brands run on different voltages. Some sewing machines work on a single voltage, especially the older models. Most of the newer sewing machine models either have a dual voltage or have varying voltages.
The voltage setting of your sewing machine is one of the important factors you have to consider, especially if you are traveling to the other side of the globe with your machine or sending one as a gift to a friend or family living on another continent.
Sewing machine voltage depends not only on the manufacturer but also on the area where it was made and where it will be used.
Here are some famous sewing machine brands and their voltage settings to help you determine the kind of sewing machine you need.
Baby Lock

Baby Lock sewing machines are not dual voltage. You will either need a step-up or step-down transformer depending on the voltage setting of your area. The voltage and frequency of the Baby Lock machine are written at the back of the sewing machine on a silver label.

Bernina

One of the sewing machine brands that manufacture more dual voltage machines is Bernina. Although, the old Bernina models are only single voltage machines.
Bernina machines work on 110 and 220 volts and at dual hertz, 50 and 60 Hz. For your Bernina machine that still operates on a single voltage, you may need to use a step-up or step-down transformer depending on the country you will be using your unit.

Brother

Brother sewing machines are only single voltage which is 110V at 60Hz. The reason behind this is that the Brother brand makes sewing machines specifically for the US market only. Although the Brother brand of sewing machines is easy to carry around, you can only bring them around the US. Users also do not recommend using any converter or transformer on the machine as it may cause damage.

Elna

Some Elna sewing machines have dual voltage. These dual voltage machines can work on 80V – 240V. But you will need a plug adapter to switch between the two voltage settings. A few models of Elna sewing machines with dual voltage are Lotus 2, 560, 720 Pro, 830, and 970.

Juki

Juki sewing machines particularly those with auto upholstery features are manufactured with a voltage rating that is suitable for that area. Most of their sewing machines are made to use a single voltage, especially the embroidery machines. Some of the Juki sewing machine models can run on dual voltage, which is 110V or 240V.

Janome

Most of Janome sewing machines are dual voltage. You can choose from a wide range of voltage and frequency variations. Sewing machines can work in European countries as well as in the US and Asian countries. The voltage rating which you can use in Europe is either 220 or 240V.

Pfaff
Pfaff sewing machines are dual voltage. The machine has a dual voltage switch at the bottom of the machine, which can allow you to switch from 110V/ 60Hz to 220V/50Hz or vice versa, depending on the voltage setting you need for your area.
Some newer models like the Pfaff 4.5 are also dual voltage but have special cord adaptors, which Pfaff also sells. Pfaff is one of the few brands with dual voltage, which you can carry around if you need to cross continents with your sewing machine.
Wherever you may be and whatever choice you make, you must always check the voltage rating first, not only of your sewing machine but of any appliance for that matter, as you may be applying electricity that it may not quite handle.
More pages: 
Are the feet of sewing machines interchangeable?
How do I choose a travel adapter for my sewing machine?
If the time comes that you need to lug in your sewing machine with your baggage for a trip abroad, you have to know how you can plug it in. When traveling to a different part of the globe, you are bound to run into various kinds of plugs. Choosing the right travel adapter for your sewing machine is easy as long as you find out first the type of plug the power outlet of a country you are visiting is.
Travel adapters are just simple devices that allow an electronic device from one country to be plugged into a wall socket of another country. It only means that the plug of your sewing machine bought in the US will not fit in a European wall socket. In this situation, you will need an adapter for your sewing machine.
A travel adapter does not convert the voltage, so you have to make sure that your sewing machine can handle the electricity coming out of the socket. You can use a travel adapter on dual voltage or multi-voltage sewing machines only. You must ensure that your machine runs at a voltage between 100V and 240V. If your sewing machine is single voltage, you will need a transformer because a travel adapter is not enough.
If you are looking for the right adaptor to bring on your travels abroad or go along with your sailor sewing machine, Amazon has universal travel adapters you might want to check out.
Ceptics

This world travel plug adapter set by Ceptics is branded as the no. 1 and most reliable adapter in the market. Being compact and small, it is the perfect travel adapter that can accompany your sewing machine, hairdryer, or any electronic appliance you need for your travel. Note that the travel adapter is compatible only with dual voltage appliances.

It has Type C, G, E/F output allowing it to work in many countries in Europe and Asia. Having Type A and B output allows it to work in the US, Australia, New Zealand, and many countries in the Middle East.

Check out the Ceptics Travel Plug AdapterSet on Amazon.

Orei

The three-prong plug adapter Orei is used for dual voltage devices. Its grounded three-prong plug is suitable for the following standard sockets: Type I, which can be used in Australia and China, Type E/F for Europe, Type L for Italy, Type J for Switzerland, Type G for UK, Dubai and Hongkong, and lastly, Type B for the US. You can see that most countries plug types are accounted for.
If you want to bring the Orei travel plug adapter abroad, Amazon carries this brand.

Trond

If you are looking for a lightweight adapter, the Trond 5-in-1 travel plug adapter saves space in your luggage and saves some in your pocket also. Its Type C plug is compatible in most European countries like Belgium, France, Germany, Greece, Italy, Spain, etc. It turns one Type C socket into two American outlets and three USB ports that you can use on your travels.

It has a voltage indicator that can keep you alert on what voltage you are plugging into. But it would be best to keep in mind that this travel plug adapter cannot convert the voltage, so you must only use it with dual voltage sewing machines or other electronics.

You can find the budget-friendly and reliable Trond travel plug adapter on Amazon.

Unidapt
The simplest and most reliable travel plug adapters come in a set of two plugs. The Unidapt travel plug adapter works with all the major plug types used in almost every continent. It is composed of two-pronged and three-pronged plugs that can work everywhere to help you avoid exasperating plugging adaptability issues.
This Unidapt travel plug adapter combo is also very inexpensive and can be found on Amazon.