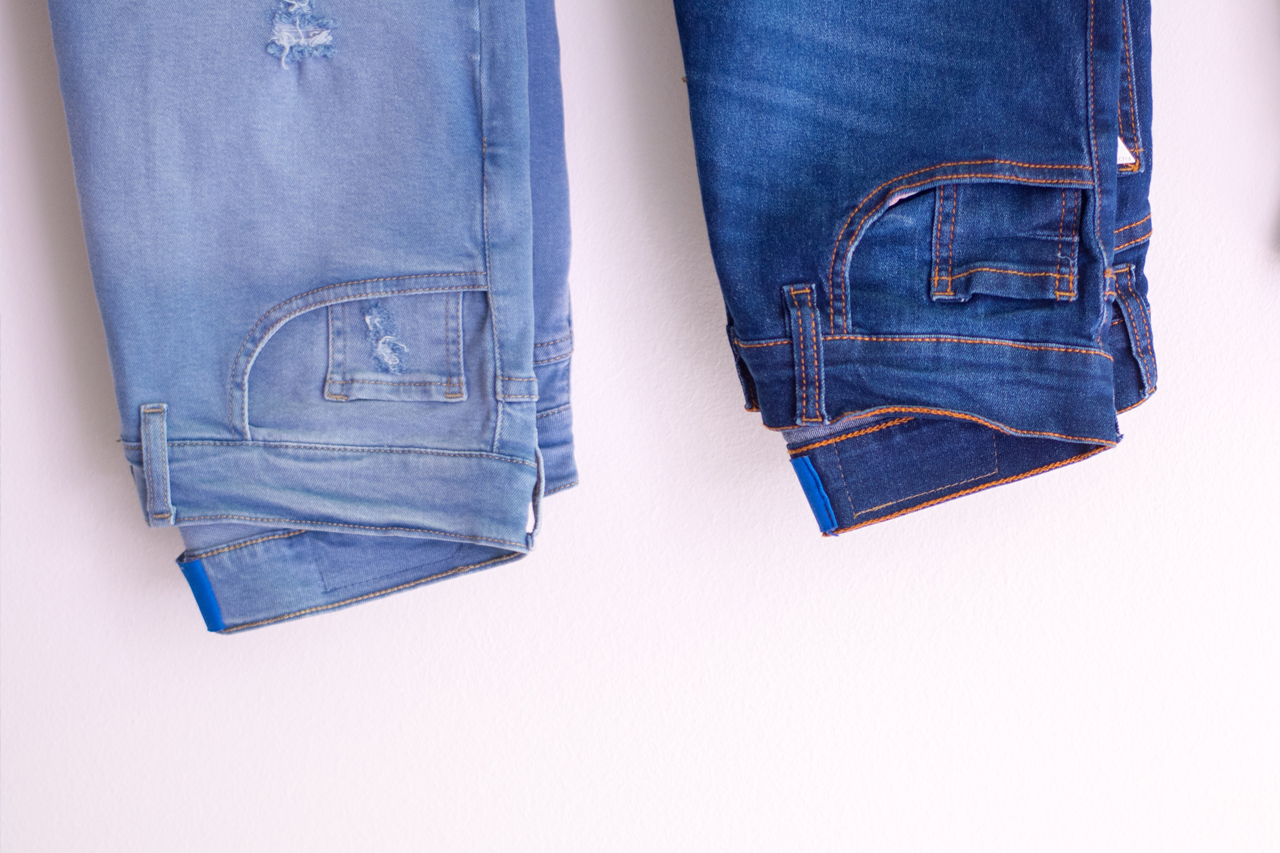 There are several ways to shorten your long jeans without sewing. You can start by rolling them up, cutting, or gluing them.
You are a fortunate person if you find jeans that are the right fit and length. More often than not, you get only jeans with the right fit but are too long for your height. Or worse, it does not fit quite right and is too long at the same time.
Buying jeans that fit you well but are too long can be easy to shorten in many ways. But before doing that, you have to choose first if you want to do it permanently or temporarily. Because if you decide to cut your jeans, there is no turning back.
How do you shorten jeans without sewing?
There are several ways you can shorten jeans without sewing them. You can roll them up, shrink them, or use hem tape.
It is possible to shorten your pair of jeans without sewing them. Here are some of the ways to do them.
Folding/ Rolling Up

The first thing you would think about when you want to shorten your jeans is to roll them up according to the length that suits you. Fold the ends inside-out and grab enough size repeatedly until you get the correct length.

If you need to shorten skinny jeans, you need to put them on first. Get the bottom of your jeans and pull them up to your desired position.

Next, fold down the bottom of your jeans to cover the inside-out part. Line the seams up so it would be hard to notice that you have folded your jeans to get the exact length.

Cut your jeans

You can shorten your pants without sewing them, but they will sport a rugged and frayed look. To shorten your jeans by cutting, you will need a measuring tape, scissors, a seam ripper, straight pins, an iron, an ironing board, and the pair of pants you need to cut.

Next, you need to remove the original hem using a seam ripper. Once you get all the stitches out, unfold the pants and then iron them.

Turn your jeans inside-out, then fold each pant leg to your desired length. Use the straight pins to keep the folds in place. It would be best to try the pants on to ensure that you get the right length.

Iron the folded hems to create creases on the folds. You can then remove the pins and unfold the pant legs. Now, you can cut along the fold using fabric scissors.

Shrink your jeans

Heat commonly makes organic material contract. Washing your jeans with hot water can hopefully shrink them to the size you want to achieve.

You might need to wash your jeans in hot water three to four times to shrink them. Another way is to throw them into the dryer and set them on high heat.

Fray the ends

Another exciting way to shorten your jeans without sewing is by fraying the ends. Denim is one of the fabrics that look nice and chic when frayed. There are several ways you can fray the edges of denim pants.

Using pinking shears

Pinking shears achieve a mild fraying effect. Pinking shears create a pleasant zigzag line along the line you want to cut. An edge cut with pinking shears can hold its shape but will eventually fray when worn and washed repeatedly.

If you want to maintain the zigzag line made by the pinking shears, you can apply fabric glue along the lines.

Tearing

Cut at your desired length and tear the fabric by pulling the fibers at the edge. If you do not want the tearing to continue, apply fabric glue along the fold line. Tearing the edge of your jeans can also shorten it.

Chopping and Washing

With your scissors, you can cut up the edges however you want, and wearing and washing it afterward will take care of the rest of the natural design it brings.
You can cut vertical lines along the edges at three to six mm intervals. Making your cuts thinner will make the edges fray faster. It would be best to wash the jeans by themselves as the threads may stick to other clothing.

Use fashion tape

A tried and tested temporary solution to shorten jeans is to use fashion tape. You can use fashion tape as a very effective way to beat wardrobe malfunctions. One of the most popular brands you can find in the market is Hollywood Fashion Secrets fashion tape.

So, if you need to shorten your denim temporarily, fashion tape is the key. All you need to do is adjust to your jean's desired length. Place the fashion tape on the edge of your jeans, and voila! Your jeans are shortened in an instant.

Fashion tape may be a temporary solution to fix your jeans but is rather effective. It works great sticking fabric on fabric, and it does not cost too much.

Hem Gems

Hem Gems are indeed gems to find in tailor shops or textile shops. They are decorative studs that you can temporarily use for hemming pants or jeans. They are attractive, reusable, and inexpensive.

Hem Gems are also effortless to use. Fold your pants according to your desired length. Using Hem Gems, you will still be able to show the original hems of your pants.

The downside of using Hem Gems to shorten your jeans is that they may get lost easily because of their size. It would be best to keep them in proper storage when not in use to be able to reuse them.

Textile Glue
Textile glue is used to attach fabrics permanently. So, if you are convinced to cut your jeans always and cut them according to your desired length, textile glue will be a great option to attach the seams.
To shorten your very long jeans with the help of textile glue, you will need a few things such as a measuring tape or ruler, scissors, pins, glue, and a long pair of jeans.
Mark the new hem of your jeans. You may need to put on your jeans to mark them according to your desired length. Mark the fold, then hold it in place using the pins.
Turn the pants inside out and draw a line along the fold where you folded the pants to their new hem length.
Draw the seam allowance for the shortened pants. A new seam allowance will make a new hem that would look pleasant as the original hem. The standard hem for jeans is a half-inch wide. You can mark one inch above the fold.
Cut the excess denim fabric. Then, iron along the fold that forms the new hemline to achieve a more polished look.
The textile glue is the perfect option for quick repairs and temporary stitching. Using the textile glue, start gluing inside the new hemline. Glue the hemline of the other leg pair.
What do you do if your jeans are too long?
We all have that pair of denim that does not fit quite right. If you have one that is too long for your height, you can wear your pants higher on your waist, roll them up, or give them to someone taller than you.
If you still need more ideas on what to do with your very long jeans, try these suggestions that worked for some.
Wear them higher

If your jeans are very long, you can wear them higher on your waist. Wearing your jeans higher on your waist will make them shorter.

You can cover the waist area with a loose shirt or a flowy blouse. You can also use your jeans as high-rise jeans if they are form-fitting and pair them up with a shirt that you can tuck in your jeans. You might need a belt to accomplish this method.

Roll them up

Probably the quickest fix for a pair of pants that is too long is to roll them up. Roll up from the hem of your jeans until you reach the desired length. The ideal length for skinny jeans is an inch above or below the ankles.

Give small tugs upwards

This technique will be more helpful if you are wearing skinny jeans. Make small tugs upwards to help pull up your hem. You can pull at the shins as well as the thighs.

Place them on top of your shoes

You can make your jeans look shorter if you place the hems on your footwear. This technique will look effective when wearing boots, loafers, or rubber shoes.

You may also consider the design of your jeans if they look better worn on top of your shoes. Boot-cut jeans with a wider bottom than the usual jeans are designed to wear over the top of your shoes.

Exchange them

If still possible, you may want to return them to the store for a refund or exchange them with jeans with a better fit or length.

Give or sell them
You can give your very long pants to a friend or kin who is taller than you. You can also choose to sell them to have the cash to buy a shorter pair of jeans.
How can I shorten my pants without cutting or sewing?
You can shorten your pants even without cutting or sewing them. All you need is hem tape that you can find in tailor shops or even in the drugstore.
If you use hem tape to shorten your pants, you will need to gather a few things to assist you. You will need pins, a flat iron, hem tape, and the pants you want to shorten.
First, you need to turn your pants inside out. Fold them to your desired length. Pin around as needed, then press with the flat iron along the crease. Apply the hem tape where you folded the edge, then iron over the folded edge.
If you do not want to cut your pants to shorten them permanently, using hem tape is a great option. Hem tape is only a temporary solution to shorten your pants. It may come off after a few washes.