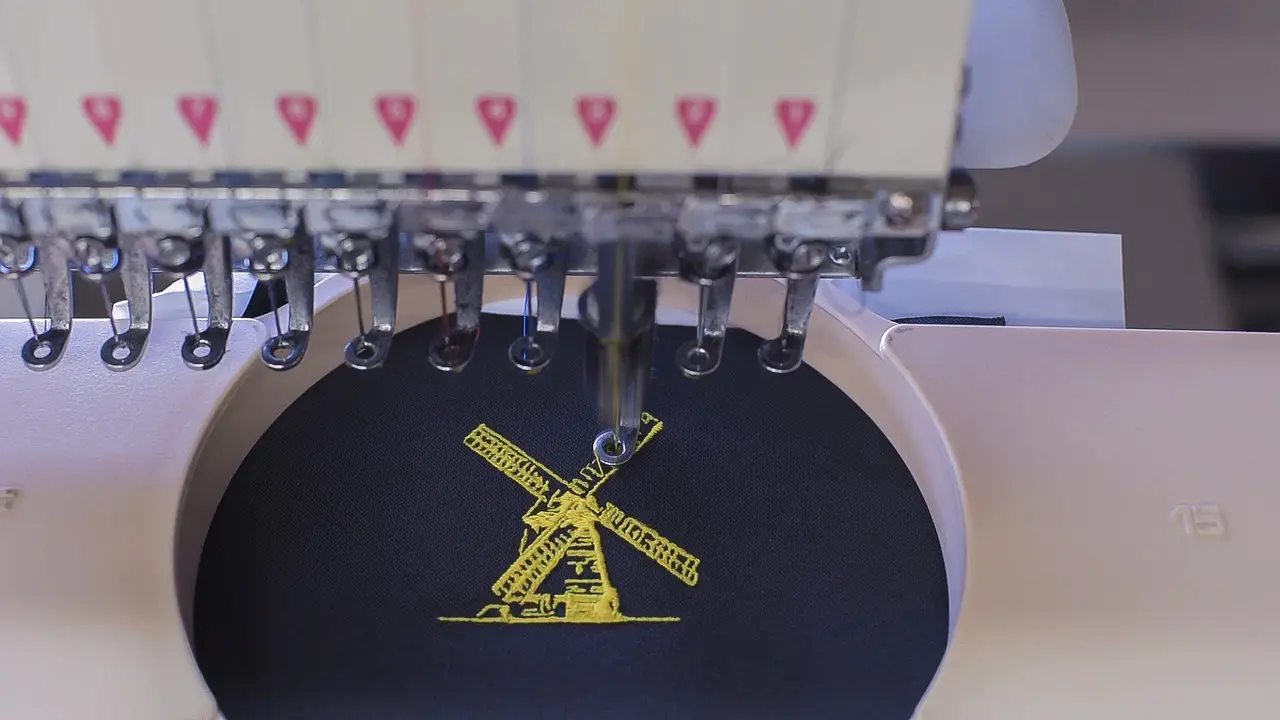 Learning how to embroider can be therapeutic, but some machines may make it challenging for you to stay calm. Some embroidery machines can be loud, and only a few know about it. You may hear various sounds depending on the underlying problem of your machine.
There are different reasons why your machine produces noises. So, it is best to understand the possible underlying reasons to know what you can do to fix the problem. Please continue reading and find out more about embroidery machines!
Why is my embroidery machine squeaking?
Like I mentioned, there are various reasons why your machine is making noises.Some of the possible reasons why your embroidery machine is squeaking or making noises include:
Incorrect upper threading
Wrong needle size
Loose needle or needle damage
Lint or oil in the rotary hook area or needle bar
Lack of lubrication
Some embroidery machines also produce vibrations when you work with them. These vibrations may make loud noises, especially if you do not apply rubber or any protective pad. Please continue reading and find out more about loud embroidery machines.
How to fix loud embroidery machines?
Finding solutions to fix your loud embroidery machine will vary depending on the reason behind it. Follow this simple guide to know how to fix loud embroidery machines:
1. Incorrect upper threading
Pull the upper thread from below the presser foot and check if the thread moves smoothly. If it does not, then it may be the one causing the noise. Un-thread the and re-thread the machine, and ensure the correct position of the needle bar thread guide.
It is best to consult your embroidery machine's manual to ensure that you thread your machine properly.
2. Wrong needle size
Clunking sounds produced by your embroidery machine may mean that you are using the wrong needle size. The machine may be producing noises when it pauses as it struggles to push the needle through thick fabric.
Changing to a more appropriate needle size might fix your problem. It all depends on the fabric you are using. You can check my other posts if you want more information on that.
3. Needle damage
Aside from the wrong needle size, there are other factors involving your needle that may be the cause of your machine's loudness. A loud embroidery machine can also be a sign of loose needle or needle damage.
Make sure that you check the needle well before you use your machine. Ensure that it is not bent and that you attached it properly. Doing these simple steps will help you prevent stress from the loud noises it can produce.
4. Lint or oil in the hook area or needle bar
A good rule to follow when you are having issues with your embroidery machine is to clean it first. Accumulated dust, lint, or thread ends on the machine's working parts can cause problems such as producing noises.
Finding accumulated lint in your embroidery machine is a natural consequence of the long hours you spend using it. It is why removing lint should be an essential item on your machine maintenance checklist.
Turn your machine off, then open the hook cover and remove the bobbin case.
Use a soft nylon brush or any appropriate cleaning brush to remove any lint and dust from the hook and its surrounding area.
Insert the bobbin case into the hook, and then close the hook cover.
It is also best if you dust away lint under the needle plate and around the feed dog. Doing so will help you ensure that your machine stays at its top condition. You can use a needle or a pair of tweezers to remove thread ends or lint that does no go with the brush.
Over time, accumulated lint and dust can also soak on oil or other lubricants and interfere with your machine's operation. But do not worry, because once you remove it, your machine can work properly again.
5. Lack of lubrication
Oiling your embroidery machine is essential if you want to extend its life and keep its operations smooth. But essentially, it evaporates as you use your machine. Your machine's parts will wear more quickly when you run it dry. As a result, it produces noises and will not perform properly.
As I mentioned, accumulated lint can also wick oil off where your machine needs it. When it happens, you will have to oil your machine sooner.
Put a drop of oil onto the hook once a day before using your embroidery machine. Apply a drop of oil on the lower needle bar felt washer every 40-50 hours of working time.
It is best to use only the appropriate type of oil to avoid any damages the machine.
Remember not to put too much to prevent contaminating your fabric or thread. If you somehow applied too much oil, you can wipe off the excess using a clean piece of cloth.
How to clean embroidery machines?
Unmaintained embroidery machines are usually the ones that produce loud noises. It is why you should also know how to clean your machine to keep it in good condition properly. Follow this simple guide on how to clean embroidery machines.
But, please note that this might not apply to all embroidery machines. It is why I always recommend consulting your machine's manual first before working with or cleaning it.
It is best to clean one area at a time when you are cleaning your embroidery machine. Before doing so, you may need to remove only the involved parts. Make sure that you remember where they are from and their correct position. Remember to unplug your machine first!
It is best if you follow this order when removing your embroidery machine's parts:
Needle
Presser foot
Slide plate
Needle plate (throat plate)
Bobbin case
Faceplate
Put these parts in a pot and cover them with the appropriate cleaning fluid. Set them aside to soak as you clean other areas of your machine.
It is best to remove the bobbin case to remove as much lint and stray threads as possible.
Wrap the motor and wire with plastic wrap to protect them from oil and solvents. Then, clean out all oil holes using a sharp-pointed tool.
Turn the handwheel to run the machine as you squirt cleaning fluid into the oil holes, bearings, and other rubbing and turning parts.
When you start to have difficulties turning the handwheel, there may be lint or dirt jammed inside a bearing. Continue running your machine and flushing it with cleaning fluid until you wash off the dirt from the bearing.
Tip the head and flush the parts under your machine when the machine runs easily again. Continue running your machine by hand until it functions smoothly.
Dip a cloth or brush in cleaning fluid and scrub other parts to remove remaining dirt and oil. You can use a pointed instrument to dig or scrape away remaining gummed dirt or lint in other areas.
Remove any thread around the hook shaft. Then, place a drop of oil on the exterior perimeter of the hook and the bobbin race to lubricate it.
Upper Thread Tension and Bobbin Case's Lower Tension
You also need to check the bobbin case's lower tension and the upper thread tension discs when cleaning your machine.
Pull a thread under the tension of the bobbin case to remove dirt.
Next, pull a cloth soaked in fluid back and forth between the discs of the upper tension.
Repeat these steps with a dry cloth to ensure there is no thread or lint caught between them.
Most machines have one or two screws holding the faceplate in place. When you remove these screws, you can remove the plate to clean both the presser foot bars and needle. Other machines have the faceplate in housing, making it easier to move away from the bars.
Use a dry brush to clean out lint and other foreign materials. Then, use a small cloth with a bit of solvent to clean the needle bar and presser bar of any gummy grease.
Place a drop or two of oil on each shaft after thoroughly cleaning. Make sure you place it on the shaft where it slides through the housing.
Oil all other moving or turning parts according to your machine's manual before replacing the faceplate.
Loosen the small screw in the locknut's face to remove the clutch and handwheel.
Unscrew the locknut and remove the washer and handwheel. Remember that not all machines have the same built, so it is best to consult your machine's manual.
Next, clean the handwheel, washer, and shaft. Lubricate the shaft with two drops of oil and place a small amount of grease on all gears.
Reassemble the handwheel and clutch.
a. You might need to remove the locknut again f the clutch fails to operate smoothly. Turn the washer 180 degrees and reassemble it after doing so. Your machine's clutch should work properly after doing these steps.
Reassemble the machine and run it by hand after thoroughly cleaning the parts. Remember not to plug the machine until all the cleaning fluid is dry.
How to oil an embroidery machine?
Lack of lubrication is one of the possible reasons why your machine is making loud noises. Most machines still run more smoothly when oiled and lubricated, which is why knowing how to do it properly is essential. Follow this guide to know how to oil your embroidery machine:
Remember:
Allow your machine to stand overnight after cleaning it so excess cleaning fluid can evaporate.
Check your machine's manual to determine the type of oil or lubricant to use and when best to use it.
Do not oil tension discs, the handwheel release, or the belts and rubber rings on your machine.
Squirt a little oil in the designated holes and all parts that rub within or against each other. Remember always to consult your machine's manual to do things correctly according to your machine's model.
Run the machine by hand to evenly distribute the oil into all the bearings. Do not worry about using oil freely because you removed all oil in the cleaning process. You must use enough oil so your machine will work smoothly.