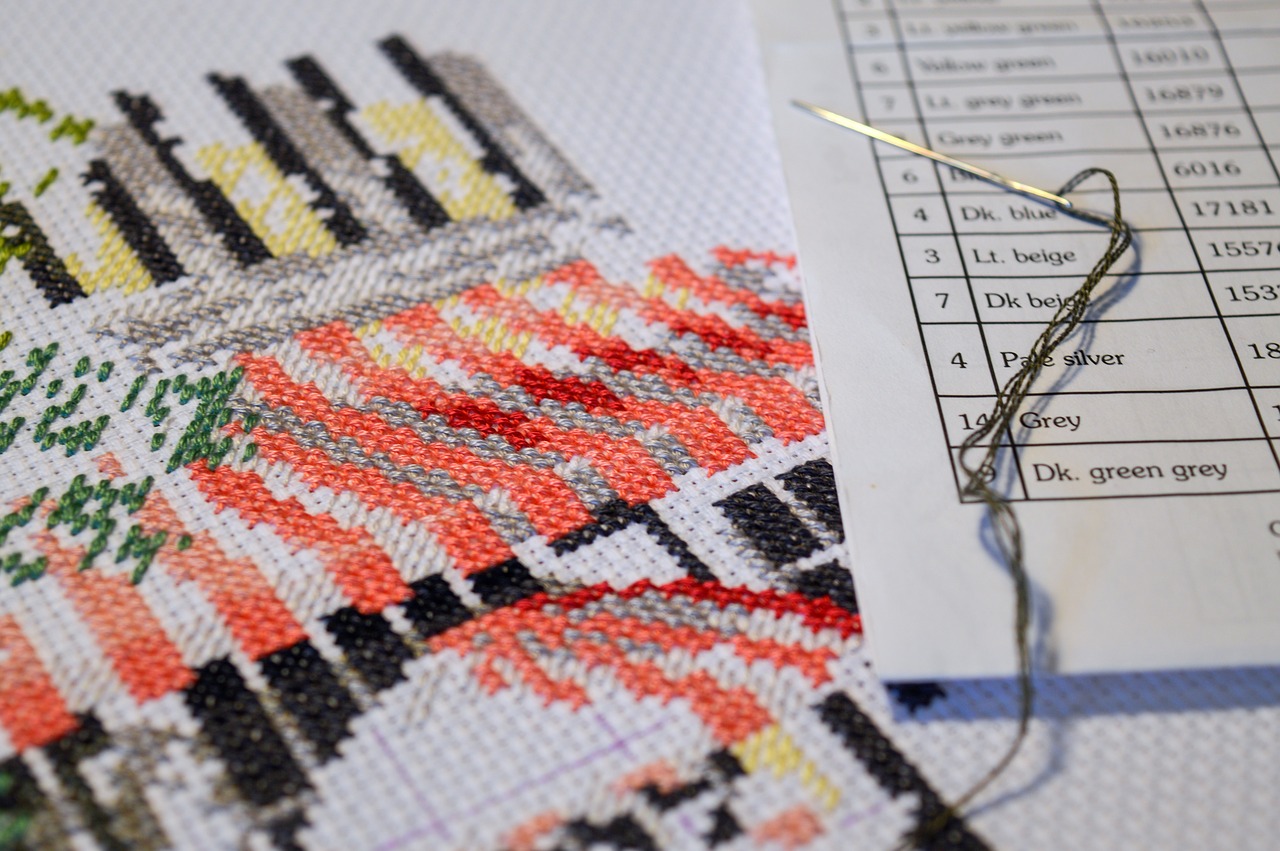 Cross stitching is a needlecraft that supposedly needs two hands to perform; one to hold the needle with thread and the other for the fabric. But for whatever reason that you are not capable of using both hands, is cross-stitching possible?
Can you cross stitch with one hand?
It is a definite YES. If you can only use a single hand because of a disability, you sure can cross-stitch. If you prefer using only one hand to do cross stitch and keep the other one free to do other tasks, that is also a great option.
Some crafters have great interest in cross stitching but can only use one hand, maybe due to an accident, sickness, or congenital issues. A good thing about cross stitching is that it is an easy and uncomplicated hobby, especially if you start with smaller and simpler patterns. There are also tools and gadgets that you can get to make your stitching more comfortable and fun.
These days, you can find such things as aids to cross stitching. They are very helpful tools that can keep you doing the craft you love. You can cross stitch despite the reduced capacity of one hand due to disability. These stitching tools also allow you to stitch more capably and enjoy your cross stitching hobby immensely.
Below are some of the stitching aids most cross stitching experts always keep on hand. These gadgets and supplies can give a better cross stitching experience to those limited to use only one hand and those who want to stitch faster and more efficiently.
1. HOOPS/FRAMES/Q-SNAPS
When cross stitching, you want equal tension on your stitches. Stitching tools like hoops, frames and q-snaps can keep your fabric taut while you stitch on it. There is no need for you to stretch your fabric to make your stitches tight as you work.
Embroidery hoops are usually made of wood or rubber, and the q-snaps are made of plastic. Q-snaps usually come in different shapes and sizes to accommodate various types of cross stitch projects. Using hoops or frames in cross stitching prevents you from holding your fabric directly which can leave stains or dirt on your work.
2. STAND
The best partner to the hoops, frames, and q-snaps where you attach your Aida fabric is a stand. This stitching aid makes it possible to free up your hand or hands because it holds the hoop or frame so that you don't have to.
The stand is an essential stitching aid, especially when you can only stitch with one hand. The stand will do the holding of the fabric for you.
There are different types of needlework stands depending on your need and comfort. You can choose from a tabletop stand, lap stand, or floor stand, whichever is ideal for enhancing your cross stitching experience.
3. PATTERN HOLDER
The pattern is one cross stitch element that you need to hold on to as you stitch. But you can also release yourself from the burden of holding the pattern by adding a pattern holder to your cross stitching essentials.
Similar to the hoops and frames, you can find pattern holders that you can attach to your stand so that you will only need one hand to guide the needle through your fabric to make your cross stitches.
4. NEEDLE THREADER
It is always a difficult chore to thread needles; what more if you cannot use both hands to do it. A needle threader is an important tool that you should always have handy. With a needle threader, you can stitch right away once the initial step of threading is done.
Another important and friendly tip; you can ask someone to thread the needles with the embroidery floss you plan to use for the day. This way, you do not need to thread needles every time you change thread color based on your pattern.
5. NEEDLE MINDER
A needle minder is not a vital tool in cross-stitching as the needle, thread, or fabric. The needle minder can keep your threaded needle on your fabric to access it easily when you need it. But if you cannot use both hands for stitching, you need all the help that you can get to make stitching easier and fun.
6. PROJECT BAG/BOX
It would be best to have a bag or a box to keep all the materials you need for a certain cross-stitch project. It would help organize your cross stitch supplies, especially the threads. They can easily get mixed up with those of other cross stitch projects. With only one hand you can use to cross stitch, you should best be organized to avoid tangled threads that would be frustrating to untie.
7. SHORT BLADE SCISSORS
Cross stitching needs precision scissors to create a clean and smooth art piece. Look for a pair of sharp scissors with short blades that you can squeeze comfortably. Dedicate one pair of scissors for your cross stitching so it would be easy to locate when needed, and it will remain as sharp as it should be.
8. LIGHTING
With any needlecrafts that you make, you will need proper lighting to make stitching so much easier. You must suitably light your work area to be able to stitch properly. The ordinary fluorescent lights may not be bright enough to illuminate your workspace. You can find LED lamps that provide brighter lights and save on energy at the same time.
What is the best cross stitch stand?
Whoever thought of inventing the embroidery stand, needlework stands or whatever you call it must be showered with praises. It is an uber useful tool for cross stitchers. A needlework stand keeps you from holding on to the fabric piece, either on a hoop or a frame. You can use one hand to stitch on the front and the other hand to work the needle at the back, making you finish your work faster.
A floor stand or any needlework stand is a valuable cross-stitch tool for crafters who can only use one hand to cross-stitch. The advantage of having a stand for your hoop or frame is that you can place it in front of you while you stitch.
When you are working at a table, you can use a tabletop stand to cross-stitch. It works similar to the floor stand, only this time, you can work at the comfort of your dining table, work table, or any other table.
Having a needlework stand can undeniably boost your cross stitching experience. Expect that your stitching will become be more efficient, easier, and more comfortable.
But before you purchase your needlework stand, there are a few things that you should consider first to get the one that would work best for you.
Your stand must have a good balance. It should hold any size of the hoop or the frame that you intend to use for your cross stitch projects. It is also great to find one which also hold the pattern chart of the cross stitch piece and the fabric at the same time.
Can it be adjusted and extended?
Enjoy the enhanced cross stitching experience, whether you are sitting on your sofa or working at the dining table. Your needlework stand must have good adjustability so you can cross stitch more comfortably. It should offer enough extension so that it can reach you wherever you decide to do your stitching.
Is it made of good quality materials?
Needlework stands are usually made of wood or metal, which are sturdy materials. They are also made of movable parts. So, before you purchase one, make sure that the adjustable parts are easy to tighten or loosen as needed. Check also that the parts all fit together to serve their purpose of holding frames and other attachable accessories.
Find the perfect needlework stand that would work best for you. You will discover that you have your hands free to do your stitching better and faster. Having a stand for your cross stitch work is the best solution for people who like to do this craft but can only use one hand.
It might chip your budget for a bit, but the benefits you will get will outweigh your initial investment.
Related: 
How difficult is cross-stitching?
Cross stitch is known to be one of the easiest forms of needlecraft. Sewing two diagonal stitches make a cross stitch. Usually, the materials used are embroidery floss or thread and sewn on the fabric with equally-spaced holes.
Cross stitch is very simple because it involves only two diagonal stitches to form an X on evenly-spaced fabric called Aida. You only need to follow a pattern or chart to transfer the design onto the fabric.
This type of embroidery is easy to make by children and adults alike. It can be calming and relaxing even to stitch x's repeatedly to create the design on the fabric. Another easier method to cross stitch is making a stamped cross stitch. Stitching on a stamped cross stitch fabric is easier than the traditional cross stitch. You only need to follow the pattern stamped on the fabric.
Stamped cross stitch is usually recommended for newbies in the craft. It can also be a good option for cross-stitch enthusiasts who can only do cross stitch with only one hand.
All you need for cross stitching are a needle, thread, fabric, and a pattern. With the pattern combined with the fabric, a stitcher would not need to hold the pattern with one hand and stitch with the other. You will only need to count and follow the number of x stitches needed to fill a specific color of the pattern.
Normally, newbie cross stitchers take longer to complete a cross stitch piece than the experts. One should cross stitch repeatedly to develop the most comfortable method of doing it. The speed of working on a cross stitch pattern does not matter as long as you are enjoying the process.
With cross stitching as a hobby, it is your choice how much time you spend on it. It also does not matter whether you use one hand or both your hands to work on your crochet piece as long as you can make it work and you are happy with the method you have developed for yourself. And lastly, keep in mind that there are tools and gadgets available that you can explore to enhance your cross stitching experience and keep your interest on this relaxing hobby alive.