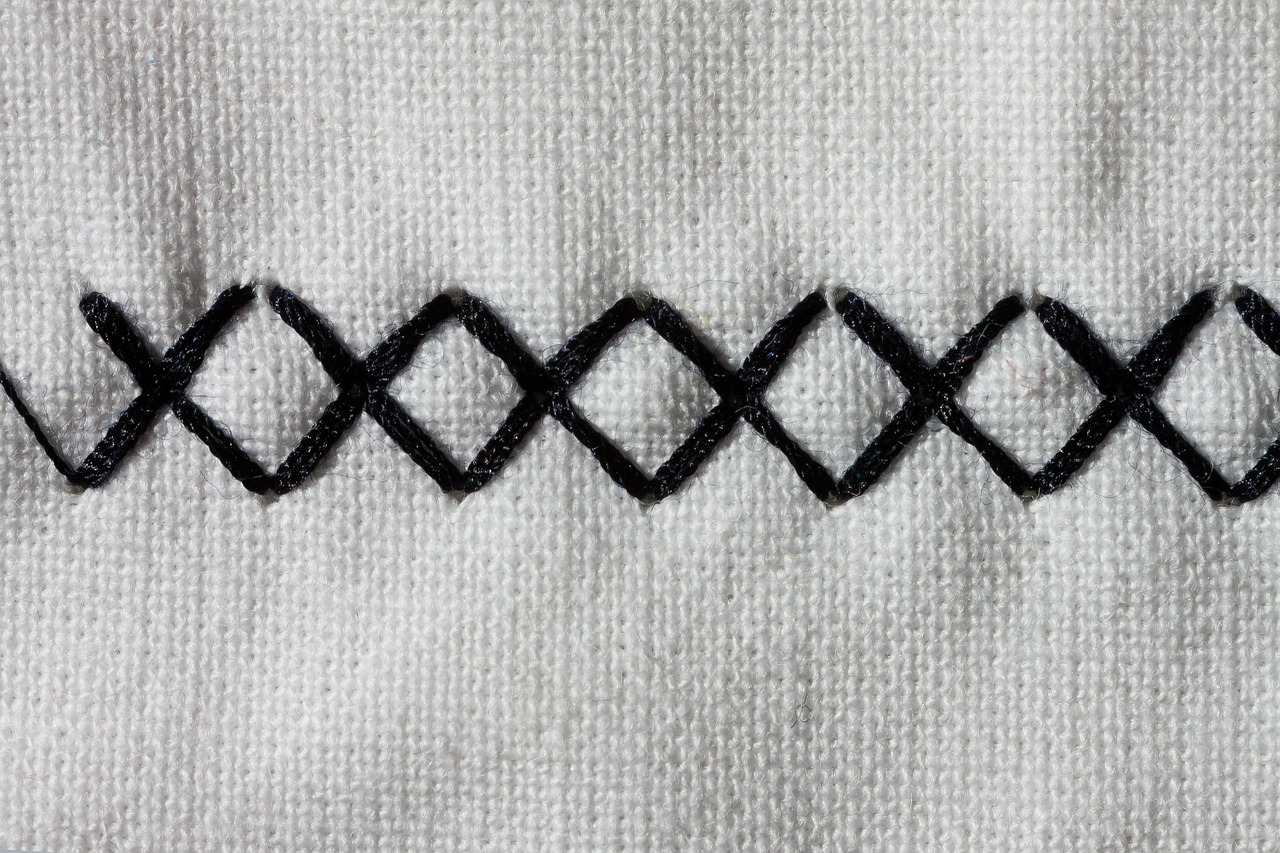 Cross stitching is one of the easiest forms of the counted thread embroidery to learn. If you can read a cross stitch pattern and knows how to follow the instructions in it, then you will have no trouble making one of your own.
The majority of the stitches used in cross stitch are in the shape of an X, and you stitch them on your fabric following a pattern. Stitches are done on Aida fabric using a blunt needle. You may use an embroidery hoop to help you maintain consistent tension. It would help if you also had a pair of scissors to cut your threads. These are the only supplies you need to start your cross stitch hobby.
By starting with an easy pattern, you will have a big chance to finish a cross-stitch project quickly and successfully for you to start another one.
Is cross stitch a good hobby?
Cross stitch is a great hobby to relax and to spend valuable time waiting at the airport or the dentist's lounge. You are making use of your time at the same time; you are creating a nice artwork that you can display once you finish stitching.
Cross stitch is easy to learn and does not require heavy equipment, so that you can carry it around in your purse. It can be a perfect boredom buster to occupy your precious time.
Cross stitching is very advantageous and is also one of the needlecraft hobbies that can bring out your creativity, especially when you have a passion for it. Cross stitching is also a great activity that can help with cognitive ability and discipline. There are more benefits to this craft than meets the eye.
Is cross stitching hard?
As mentioned earlier, cross stitch is one of the easiest forms of embroidery. It is a fun needlecraft hobby that you can easily learn during your downtime from work. It is a nice hobby that can give you wall art or something you can give out as gifts to your friends and family.
If you want a much easier cross stitching journey, these helpful tips and tricks can lead you to quickly and successfully finish your work.
Maintain clean hands.
Make sure that your hands are always clean before starting to stitch. Oils from your hands can easily transfer to your cross stitch fabric and cause stains and dirt that are quite hard to remove.
Provide proper lighting.
Cross stitch floss comes in different shades and colors. You may be using threads that have very close shades for your project. Proper lighting can avoid color confusion on threads used to prevent errors that can cause delays in finishing your work.
Make sure your stitches face the same direction.
There are not many cross stitching rules, but the simple rule of making your stitches face the same direction should be unfailing. Make sure your stitches face the same direction throughout your work unless your pattern has other instructions.
Untwist your floss to avoid knots.
Your threads may develop knots as you stitch. To prevent knotting from happening all the time, make it a habit to dangle the needle and thread, allowing it to untwist.
Maintain consistent tension on your stitches.
There is nothing better to see on a cross stitch work as a proper tension throughout your fabric. Your stitches must lie flat against the fabric, not too loose nor too tight. You will get what a proper tension is as you go along and practice doing your stitches.
Buy good quality supplies.
Do not scrimp on your cross stitch supplies. It would be best to buy expensive yet good quality fabric and floss for your cross stitch project. After all, your finished product can maybe last you a lifetime.
Cross stitching is easy and does not require so many instructions on how to go about with the craft. You only need to know how to read and follow the pattern. As long as you enjoy what you are doing, you are on the right track.
Check: Why is Liberty of London fabric so expensive?
What is the sewing method in cross stitch?
Cross stitching relies on a single stitch, the cross stitch, as the name implies. But as you explore more challenging and more difficult patterns, you will come across other cross stitch variations. These stitches are called fractional stitches, and they will help you bring to life your work.
Cross stitch embroidery is one of the easiest types of embroidery because the design is made from stitches that form an X. The challenge is to place these X-shaped stitches on the fabric according to the pattern to create your chosen design.
You will know the full cross stitches by the full-colored boxes in the pattern. Create your first stitch by bringing the needle with floss from the backside of the fabric to the front. Go diagonally, then bring your needle to the backside. You have made the first leg of your cross stitch.
You can make a series of these diagonal stitches across a row before going back to stitch the other diagonal stitches to form the x stitches. From the backside of your fabric, bring your needle and floss to the front through an empty corner from your last diagonal stitch. Then, create a diagonal by pushing your needle to the opposite corner, forming an x.
You can create a half cross stitch by creating a half leg of the cross stitch. The half cross stitch can be stitched either diagonally towards the right or the left.
On the pattern, half-cross stitches are indicated by diagonal lines. Half cross stitches are sometimes used to represent water, sky, or something semi-transparent. These stitches are also used as shading to create a sense of depth in the cross-stitched picture.
In stitching a quarter stitch, bring your needle and floss from a corner of a square of the fabric, then push it down to the center of the square. The quarter stitch is half of a half cross stitch.
When stitching quarter stitches, it would be best to use a smaller size needle (size 26 or 28) to slip between the fabric's fibers.
With the three-quarter stitch, you also have to punch through the intersection of the threads of your fabric. Three-quarter stitches are indicated as half-colored boxes in cross stitch patterns.
To make the three-quarter stitches:
Bring the thread from the backside of the fabric to the front through one corner.
Stitch a diagonal creating a half cross stitch.
For the shorter leg of the three-quarter stitch, bring your needle and floss to the front of your fabric through one corner. Then, push your needle through the intersection of your fabric threads towards the back of your fabric.
Check your pattern for the direction and location of your three-quarter stitches.
Backstitch lines are mostly used as borders of cross stitch patterns. That is why it is best to start stitching them after making all your project's cross stitches. Sometimes, backstitch lines are also used to add details to a cross stitch design.
Backstitch lines are shown as colored lines on cross stitch patterns. The color of the lines on your pattern indicates what color of floss to use.
To stitch the backstitch lines:
Bring the needle with floss from the backside of the fabric to the front.
Go to the next hole, then bring the needle again to the backside.
Bring your needle from the back to the next hole.
Stitch backward to the last hole to make a line.
Repeat the process until you have created the needed backstitch lines to enhance the design.
How do you start cross stitching?
A finished cross stitch project can look impressive and intricate. But guess what, it is the type of embroidery that anybody can do. You can easily pick up this skill, and it will not take you long to master it.
If you are up for this counted-thread embroidery hobby, here are a few of the basic steps you must know.
Choose the right pattern for your skill level.
If it is your first-time cross stitch, it would be best to start first with beginner kits. Also, it would be advisable if you choose a pattern that has whole stitches only, with a little backstitch detail. Choose a not too large pattern so you can finish it fast and see the results quickly.
Gather the materials for your project.
As a newbie, it would be better to get the cross stitch kits first. Cross stitch kits come with the pattern, fabric and needles, and thread you will need to create your project. But if you only have a pattern to start with, you need to buy the recommended fabric, thread, and needles.
You might also need to buy for your hobby an embroidery hoop for proper tension and a pair of scissors for cutting extra thread or fabric.
Find the center of your pattern.
Before you start stitching, look thoroughly at your pattern first. Stitchers advise looking for the center of your pattern. It is usually marked with arrows or triangles around the edges of the chart. When you find the center of the pattern, check the key for the color of floss that you need for your first stitch. Also, check for the number of strands of thread you need to stitch your design at this point.
Look for the center of your fabric.
Next, find the center of your fabric. Fold your fabric horizontally, then vertically. The point where the folds meet at the center is your fabric's center and corresponds to the center of your pattern.
Start stitching!
After preparing your materials and reading your pattern, you are now ready to stitch your first cross stitch. Bring your needle with floss up from the bottom left corner of the square, and then bring it down at the square's top right corner. Leave at least 2 inches of thread tail before making your first stitch. You can secure your stitches in place by catching the thread tail under the stitches at the back of your fabric.
When you have secured your thread, stitch away. It is your choice which direction to go. You can stitch towards the right or left of the center of the fabric. Some stitchers choose to go up or go down from the center. Some stitchers go towards the area with more prominent colors and then fill in the smaller areas with colors.
As long as you have established where to start your first stitch, you can stitch away and enjoy the process. Once you have run out of stitches to stitch, you can now secure the end of your thread. You can do this by passing the needle under three or more finished stitches at the back of your fabric. Trim the extra thread close to the fabric. And you are almost done.
How do you finish a cross stitch?
Finishing your cross stitch is the ultimate reward in this counted-thread hobby. You have stitched all the whole stitches (and the fractional stitches, if there are) on your pattern. You have also stitched the backstitch lines to define the image of your cross stitch. What comes next? Here are a few more steps before you can finally declare that your cross stitch project is now complete.
When you have finished stitching, you can iron the backside of your fabric with steam. This method will help straighten the fabric and remove marks of the embroidery hoop that you have been using while stitching.
Cut off the excess fabric. You may have started on a huge fabric that is too large for your design. Remove the extra fabric before you have it framed.
Frame your work. You have spent hours and your resources on it, so it is best to be framed. When you finished a small cross stitch piece, you have the option to fix it in an embroidery ring. You can also use your cross stitch as a pillowcase design, a wall hanging, baby things design, or even a bookmark.