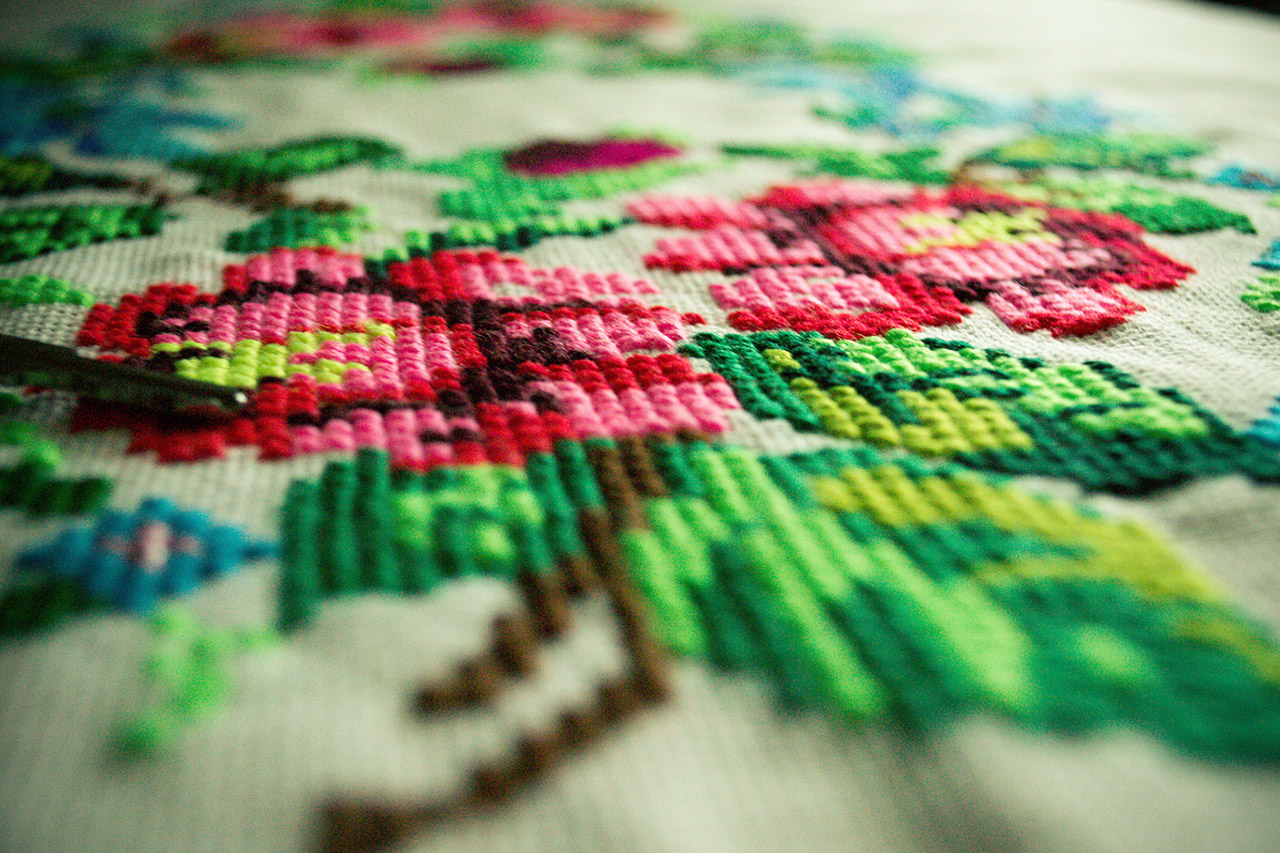 Cross-stitching is one form of embroidery and is considered to be the easiest. That is why cross-stitch is the first thing you should try if you plan to make embroidery your hobby.
Cross-stitch uses stitches formed by two diagonal stitches crossing each other, creating a tiled design. Cross-stitching is considered a form of embroidery because it embodies the meaning of embroidery, meaning various forms of sewing decorative designs on fabric.
If you want to know more about cross-stitching as a form of embroidery, read on for more information.
Cross-stitch is a type of embroidery using x-shaped stitches and a tiled pattern to create the design. The image you create is more geometric and boxier than the traditional embroidery.
Cross-stitch is commonly used to embroider words on items because of its slight angular quality.
Cross-stitching usually happens on a fabric stretched on a hoop.
Another cross-stitch version is stamped-cross-stitch, wherein a printed pattern appears on fabric. The design serves as the pattern for the embroiderer to follow. When doing counted cross-stitch, make sure that you start from the center of your fabric to ensure that your completed project has an even finish.
Cross-stitching uses mainly Aida cloth, a cotton fabric with woven blocks creating a grid ideal for forming cross stitches. A 14-block Aida fabric is the best option for a beginner in cross-stitch.
Cross-stitch fabrics are woven and must have an even number of threads horizontally and vertically. Cross-stitch fabrics with higher counts produce smaller stitches. Aside from Aida cloth, you can use other materials for cross-stitching: evenweave, waste canvas, Lugana, and Jobelan.
The traditional cross-stitch projects are usually framed, but you can also cross-stitch items like bookmarks, coasters, clothing, brooches, etc.
If you are just about to start an embroidery hobby, cross-stitch may be the best type you should start with. Beginner patterns usually use whole cross stitches; you must learn only one stitch: the cross stitch.
There are five types of stitches used in cross stitch: full cross stitch, half cross stitch, fractional stitches, backstitch, and French knots. These stitches are variations of the X-shaped stitch to achieve a more accurate picture of the design on the pattern.
Cross-stitching is the easiest form of hand embroidery. It is much easier to learn to cross-stitch than any other forms of embroidery, so it is recommended for beginners.
Cross-stitch may be considered a traditional craft, but something you can personalize and use as artistic expression.
To make a cross-stitch piece, you need to follow a chart or a pattern. In this chart, you will find a color key that will show you the color and position of each stitch.
It is easier to begin with cross-stitch than embroidery as they usually come in kits that include a printed pattern, pre-sorted threads, fabric, and a needle. These are the only supplies you need to start.
Embroidery is generally defined as decorating fabric using thread and needles. Embroidery uses a freer form than cross-stitch because the stitching is not limited to following the grids of an evenly woven fabric.
Similar to cross-stitch, you can follow a pattern with embroidery. You can transfer the design to the fabric and add your stitches. You may also draw your design on the fabric with a disappearing ink pen.
Cross-stitch looks different from embroidery because the finished piece looks like a tiled design, unlike embroidery, which can look more realistic using different stitches and techniques. Some famous stitches used in embroidery are backstitch, zigzag stitch, satin stitch, French knots, chain stitch, etc.

Both cross-stitch and embroidery can create a realistic effect by blending colors or thread painting.
Cross stitch uses evenly woven fabric. The most popular option is Aida fabric which comes in different "counts," meaning the number of holes per inch. The most often used Aida fabrics are the 14 and 16 counts. Another famous option is evenweave fabric.
Cross stitching and embroidery use different kinds of needles. The holes in the Aida fabric and evenweave are more prominent, so you will need a tapestry needle with a blunt end. Cross-stitch needles come in different sizes depending on the material you use. For 14 and 16-count Aida fabric, you will need sizes 24 and 26, respectively. For evenweave fabric, you can use needle sizes 28 and 32.

Embroidery uses a sharp, pointed needle that is needed to pierce the fabric easily.
Both embroidery and cross-stitch use beautiful and colorful cotton threads for stitching. When choosing your embroidery threads, look for high-quality, colorfast, and vibrant threads.

For embroidery, you can use all six strands, while for cross-stitching, you need to separate the strands and use only two strands.
If you want to be more at liberty with your designs, you can choose embroidery. But if you are a newbie at needlecraft, start with cross-stitch first, as it is easier to follow a pattern.
What kind of art is cross stitch?
Cross stitch is a type of needlework that you can consider both a craft and a form of artistic expression. It can be classified as a textile art form.
You create intricate designs with cross stitching by making x-shaped stitches on even weave fabric. Embroiderers can make cross-stitch pieces from existing patterns and create personalized or original cross-stitch items.
Try out different colors, thread types, and fabrics to achieve the quality of the cross-stitch piece that you want.
Cross stitch is considered a decorative craft producing lovely designs from patterns. It is a type of needlecraft that also allows a person to show creativity using a needle and thread. These days, many cross-stitch artists produce one-of-a-kind cross-stitch pieces that are indeed works of art and not just crafts.
What is cross stitching called?
Cross-stitching is called cross-stitch, describing the kind of stitch used for this specific craft.
Cross-stitch also refers to the craft that uses the method of sewing x-shaped stitches on evenly woven fabric.
Is cross-stitching considered sewing?
Cross-stitching is one form of sewing. Sewing describes the various techniques of joining fabric and other materials using a needle and thread.
In the case of cross-stitching, sewing is done by stitching X-shaped stitches on evenly woven fabric to create a design. Cross-stitching is a specific sewing method and is just one of many sewing techniques. Other types of sewing are hemming, applique, garment-making, quilting, etc.
Is cross stitch easy or embroidery?
Cross stitching is undoubtedly easier than embroidery. There is only one stitch to learn, uses a tiled chart to follow, and is done on a woven fabric with holes.
If you need more convincing that cross-stitch is a more accessible hobby than embroidery, here are five reasons you should know.
Cross stitching uses only the x-shaped stitch.
Cross-stitching is easy because you need to learn only one stitch and an easy one at that. This type of embroidery uses only the x-shaped stitch, which is made of two diagonal stitches crossing each other.
Cross-stitching is ideal for newbie embroiderers. The little crosses form a tiled design using a pattern.
1. Cross-stitching uses an easy-to-follow chart
Starting an embroidery hobby is easier with cross-stitch because it always comes with a pattern or chart that you can follow to complete a design. The chart contains the colors and symbols you can refer to when stitching the colored threads.
2. Cross-stitching uses evenly woven fabrics
Cross-stitching uses woven fabrics like Aida and evenweave, which have pre-made holes. Sewing the colored cotton threads is easier using these evenly-placed holes in the material.
3. Cross-stitching uses only two strands of embroidery threads
Cross-stitching and embroidery both use cotton embroidery threads. They differ in the number of strands used for stitching. The standard number of strands for cross-stitch is two, while embroidery uses three to six strands to achieve the design you want to convey.
Cross-stitch uses two strands for every embroidery thread color throughout the project, making it easy to follow.
4. Cross-stitching is ideal for starting with embroidery
Embroidery, in general, can be overwhelming if you are starting with this hobby. It would be best to learn different kinds of stitches to get the right effect and texture you want on your design, giving you more freedom to be creative with your work.
With cross-stitch, you only follow what is written on the pattern. Each embroidery thread color has a corresponding symbol on the chart that you can refer to so you can complete the tiled design using the small cross-stitches.
Is cross stitch a traditional art?
Cross stitch is a traditional art form as it has been done for centuries and has a long history.
Cross stitch has been around for a long time, with many different cultures practicing this craft around the globe. Needlecraft has been passed down from generation to generation as an art form and a craft.
In old times, cross stitches used only basic materials like needles, thread, and fabric. The usual cross-stitch projects were samplers, table linens, clothing decorations, and anything in nature. Designs and patterns used in cross stitches before are about cultural motifs, religious symbols, and personal narratives.
Cross stitch has traditional backgrounds, but, remarkably, this craft is still popular to this day. Many cross-stitch artists and enthusiasts combine modern and traditional techniques, designs, and materials, making many cross-stitch pieces forms of contemporary art.
Also, cross-stitchers have an all-inclusive age range these days than decades ago. Cross stitch became accessible to more people, which added to its enduring popularity.
Is cross stitch crafting?
Cross-stitch is a form of crafting since crafting refers to activities that create things using hands.
Cross-stitching is a type of needlecraft that uses needle and thread to create decorative designs on woven fabric.
Cross-stitching produces items like framed pieces, home ornaments, or personalized items like bookmarks or clothing.
This type of crafting remains popular because it is an enjoyable activity for both newbies and experienced crafters. It is also well-liked by people of all ages.
A good thing these days is that cross-stitch patterns are widely available for many crafting enthusiasts. Many interested cross-stitchers of different skill levels can find patterns and kits readily available
enthusiasts.