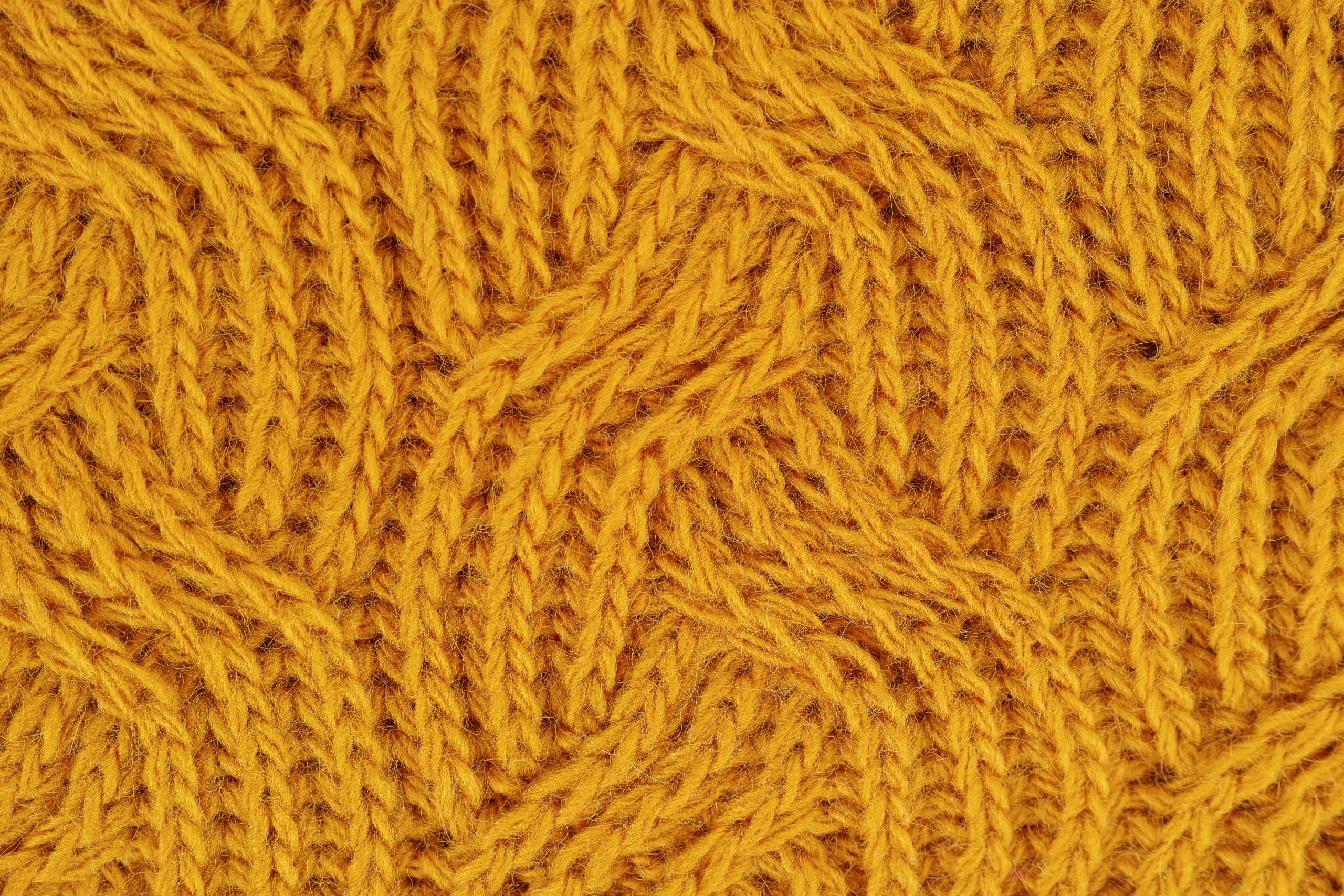 One of the most common types of yarn is Aran yarn, also known as medium yarn. It is thicker, stronger, and more rigid than other types of yarn. Once you learn what this fantastic yarn is, you will want to use it for all kinds of projects!
If you are not yet familiar with this yarn type but want to know more, you found the right place! First of all, you need to know that Aran refers to a weight classification of yarns used for knitting or crocheting. But, why do you need to know about these things?
Yarn thickness and weight have a significant effect on your project's final look. Yarn weight will help you know the number of stitches you should knit in one inch. Please continue reading this guide to learn everything you need to know about Aran-weight yarn.
What is Aran-weight yarn?
Aran yarns are medium yarns that can be from any fiber, from acrylic to wool. They are thicker than double knit yarns and usually more rigid and more robust. They are common in the United Kingdom and lie between double knit and chunky yarns.
If you want to work with a heavier yarn that looks relatively delicate, Aran-weight yarn is perfect! Many confuse the term with Aran sweaters, which owe their name to Ireland's Aran Islands. But, they have nothing to do with the standard weight of wool.
Many people also call Aran yarn "heavy worsted yarn" because it is thicker and heavier than worsted yarn. Like worsted yarn great for knitting socks, Aran yarn is also a popular choice because of its versatility due to its medium weight.
What is Aran yarn used for?
Because it is medium weight, you can use Aran yarn to knit or crochet a vast number of projects. You can create scarves, shawls, gloves, hats, bags, and sweaters. You can even use Aran-weight yarn to create housewares and accessories!
But, you should never forget the fabric that it will produce when you work with Aran yarn. Aran-weight yarn will make medium to heavy-weight fabrics. It may not be ideal for creating lightweight garments that you intend to use during hot days.
Aran-weight yarns are often available in a variety of color and fiber selections. They can be from any type of animal, plant, or synthetic fibers. If you want to use Aran yarn for your projects, there should be no problem finding the best variant for your garment.
What number is Aran-weight yarn?
Yarn weight determines how many stitches it takes to knit one inch of your garment. Aran yarn is number 4 in yarn weight that produces 4-5 knitting stitches per inch in Stockinette stitch.
Generally, most Aran yarns will crochet or knit at a gauge of 16-18 stitches per four inches. Wrap around a ruler eight times within one inch. Remember that some Aran yarns can be thinner and closer to worsted weight or heavier and more comparable to bulky weight.
Some yarn retailers do not distinguish between Aran and worsted yarns and do not stock them separately. You may need to make a gauge swatch to determine how heavy a specific Aran yarn is.
A swatch is a small square sample piece demonstrating the stitch number per inch your finished fabric has. Make sure to use the appropriate yarn and knitting needles or crochet hooks when making your swatch. Doing so will help you create more accurate swatches.
What is Aran-weight yarn equivalent to?
The Aran-weight in the UK is generally equal to the US's worsted weight and ten plies in Australian yarn weight.
But, please keep in mind that this is only a guide. It may be inaccurate as these yarns may not have the same weights. It is always best to test your gauge and tension with swatches to get the more accurate equal.
Is Aran-weight yarn the same as worsted?
Aran and worsted weight yarns are often interchangeable, but they are not precisely the same. Aran-weight yarns are usually heavier than worsted yarn. It is why some crocheters and knitters call it "heavy worsted."
Worsted yarn is more delicate and thus lighter than Aran yarn. It calls for 4.5mm UK needles, and hook, unlike Aran that calls for 5mm UK needle sizes. Like Aran, worsted yarns can also have varying weights, ranging from light to medium worsted. Nevertheless, when you ran out of a normal yarn, an Aran-weight yarn is an excellent alternative.
Can I use Aran yarn instead of worsted?
You will sometimes see patterns noting that you can use either worsted or Aran-weight yarn. Aran is much more common in the UK, while worsted is more common in the US.
It still depends on your preferences. If your pattern calls for either worsted or Aran, but you want a slightly bulkier garment, you can use Aran. But if you want your garment to be slightly lighter and with finer fibers, you can use worsted.
Is Aran-weight yarn the same as chunky?
Aran-weight medium-weight, while chunky belongs with the heavy-weight yarns. Chunky refers to yarn weight with a 12-ply thickness.
Chunky is much thicker and bigger than Aran and worsted yarns. It has a knit gauge of 12 to 16 stitches every four inches (10cm). Its recommended needle size ranges from 10 to 11 for the US and 5.5 to 8mm for the UK.
Yarn weight varies from size Lace to Jumbo, with corresponding number symbols for each weight. Chunky yarns have an equal number symbol of 5, while Aran is number 4. They work best for heavyweight garments like jackets, scarves, and blankets.
Is Aran-weight yarn the same as DK?
Unlike Aran, Double Knit (DK) yarns are thinner, lighter, and often more delicate. Knitters often use this yarn to create lightweight garments like summer sweaters, caps, or accessories.
DK yarns have an 8-ply thickness and a knit gauge of 21 to 24 stitches per 4 inches. Notice how yarns that have lighter weights have a wider knit gauge. It is best if you always remember this tip for your future swatches and projects.
One of the biggest differences between these Aran and DK yarns is that both the UK and USA standards use DK. Unlike Aran, it is not too confusing to work with DK yarn and find the appropriate materials you need based on US standards.
How many strands of DK to make Aran?
If you want to try working with Aran-weight yarn but do not have access to it, this tip might help you! It is common for knitters to combine DK yarns to replicate Aran. Use two strands of DK to make Aran-like yarn for your projects!
But, remember always to check your gauge, especially since your mileage may vary. Doing so will help you get accurate and more professional-looking results!
How to substitute yarn weights?
One of the essential skills in being a proficient knitter is learning to substitute yarns. It can sometimes be necessary for many reasons. It is not difficult to substitute yarns, but it can be challenging if it is our first time. Here is a guide on how to substitute yarn weights:
You need to know a little bit of information about your pattern's yarn before buying new ones. You need to know its gauge or the number of stitches and rows per inch indicated on the pattern.
But, if your pattern does not show the gauge, you need to know the yarn's weight. Knowing this information will help you narrow down your search for substitute yarn. It will save you a lot of time by simply eliminating all the other yarns that will not work well with your project.
Once you know the yarn's gauge and weight, you can start looking for a substitute yarn with similar statistics. But how do you know if a yarn has the same gauge without knitting?
Most yarns dictate how many stitches and rows it works upon a certain needle size for more than an inch or four inches. You can usually find this demonstrated on a grid with a particular needle size indicated outside the grid.
Unfortunately, it is unlikely that you will find a substitute yarn that perfectly matches your pattern's yarn. Companies use different needle sizes that significantly affect the gauge.
It is why substituting yarns has a lot to do with your preferences and the pattern's dynamics. Avoid choosing yarns just because it relatively matches the gauge. No matter how close it is to the pattern's yarn, but you do not love it, you need to keep looking.
You need to decide how much you want to buy after finally finding the perfect substitute yarn. You need to go back to the original pattern and look for the yardage measure, weight, or the number of skeins you need.
It is much better if you know how many yards the original project used. You can easily do the simple math to figure out how much of the new yarn you need. You need to base your calculations on how much yardage is in each ball.
Remember that swatches are vital in knitting or crocheting. Do not forget to take your time to make a gauge swatch before working on your project! Doing this step is much better than knitting your entire project and finding that it does not fit or look good.