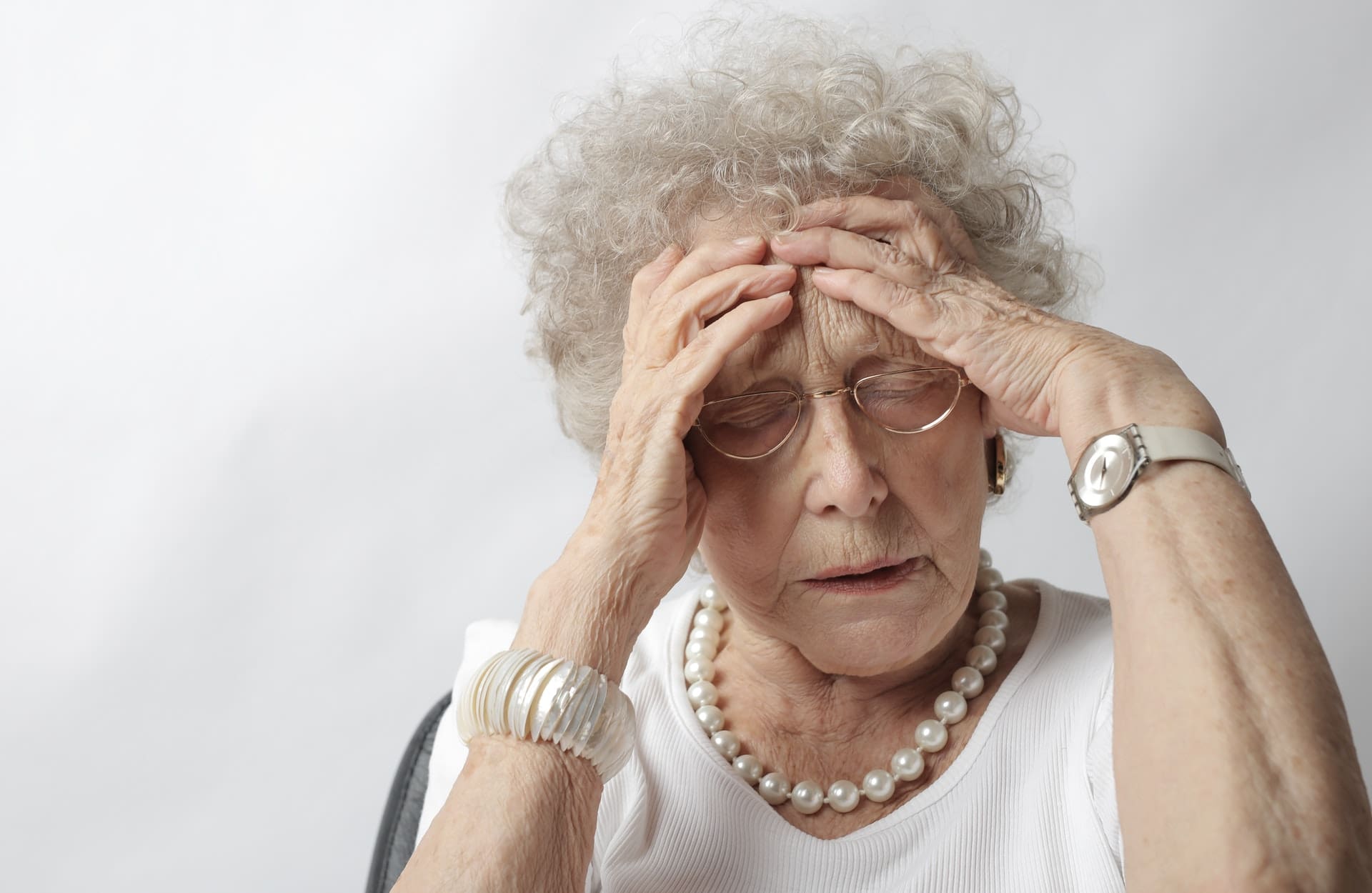 Knitting is a fun and relaxing activity. It must not cause any pain or discomfort to you. If you are experiencing pain like a headache, then there might be other reasons behind it.
When you do knitting as a hobby, then it must be relaxing and beneficial to your overall health. If it creates otherwise, you are either overdoing it or using the wrong tools.
Straining the Eyes
If you knit over long hours, you tend to strain your eyes. The frequent strain on your eyes can result in headaches in the long run. To prevent this from happening, set a time limit for your knitting.
Even if you have the entire day to do it, avoid spending all your hours knitting your project. Anything that you overdo will have consequences. No matter how relaxing it is, prolonged looking at stitches can lead to eye strain and headaches.
The best thing you can do is have occasional breaks when knitting. You can allow 10 to 15-minute breaks per hour of knitting. This will allow you to rest your eyes, head, and hands.
During breaks, stretch your arms, waist, and arms. Twist or flex your wrists and close your eyes for a while. These will allow your blood to circulate well and relax the muscles and nerves around your eyes.
Low-light Condition
If you knit in low-light conditions, you tend to squint and look closer at your stitches. This can cause headaches and stress to your eyes.
It is always advisable to knit in a well-lit area, so you can have a clear view of your work. You must also have the light above your head to avoid shadow casting on your work.
Hunger and Missed Medication
Sometimes, you get too overwhelmed that you forget the time. When you enjoy knitting so much you tend to forget eating or taking your medication. If you do not eat for long periods, your hunger can trigger headaches.
The same can happen if you missed taking your medications. Say you take medications for your heart or blood pressure. Drinking your medications at the wrong time can cause you terrible headaches.
To avoid this, always have a schedule written. Place it near you when you knit so you can peek on it every so often.
Wrong Tools
Using the wrong tools is another reason why knitting gives you headaches and stress to your eyes. If your vision is far from perfect, it is advisable to use bigger needles and yarns.
Wearing corrective eyeglasses is also best to avoid eye strain and headaches.
When all the precautionary measures fail, and your headache persists, consult your doctor. There might be other causes of your headaches besides knitting.
Can Knitting Cause Wrist Pain?
Some knitters experience wrist pain while knitting and body discomforts every once in a while. The reason is not the knitting process per se. It is in the manner they do the knitting process.
When you knit, you may stitch using the same movements over and over again. If this motion continues over periods, it will strain your wrist and fingers. The constant twisting and turning of your hands can result in over usage of its muscles and tendons.
In case you feel a strain on your wrist while knitting, it is time to stop for a while. This pain is giving you a signal that you are overusing your hands. What you need to do is take a short break and give your wrist, fingers, palm, and forearm some rest.
Can Knitting Cause Arthritis?
When you overdo knitting, it can result in pain in your hands, wrist, and fingers. But this does not mean you are developing arthritis. This condition is more than plain joint or muscle pains.
No scientific or medical study points out knitting to be one of the causes of arthritis. There are many reasons why a person develops arthritis. It can be genetic or permanent damage to one's joint cartilage.
Knitting pain is not enough to say that it is an arthritis symptom. Arthritis is not a simple condition of joint pain. Check this post Does Knitting Cause Arthritis? and read more about knitting and arthritis.
When you feel pain or tingling sensation on your wrists and around your thumb, give your hands some rest.
Does Knitting Cause Carpal Tunnel?
Knitting and other activities like gardening, painting, and typing can cause carpal tunnel. This condition is a symptom of Repetitive Stress Injury or RSI. This happens when you do a repetitive activity over long periods.
To help you understand this condition you need to know what a carpal tunnel is. This carpal tunnel is a thin passage inside your palm near your wrists. This passage has small bones and ligaments.
When you use your hands and wrists often, you tend to compress the nerves on your carpal tunnel. This will result in pain and tingling sensations.
The symptoms of this condition are burning pain, itching, and numbing of palms and fingers.
If you notice the numbing of your fingers up to your shoulders, you might have a severe condition.
Can You Get RSI From Knitting?
RSI is the abbreviation of Repetitive strain injury. It is the pain you feel around the muscles, tendons, and nerves of certain body parts. This condition happens when you do a certain movement repeatedly over time.
Knitting, crocheting, and typing are some repetitive movements that can cause RSI.
What Are The Other Causes Of RSI?
Repetitive movements or activities
Performing high-intensity activity over a long period without rest
Poor posture while working
What Are The Symptoms Of RSI?
The following are some of the common symptoms of RS. You may experience one or more of these symptoms when you over-stress your hands.
Pain or tenderness of the affected area
Stiffness of the muscles
Throbbing sensation
Tingling or numbness
Weakness
Muscle cramps on the injured part
What Parts Of The Body Does RSI Affect?
Repetitive strain injury happens to body parts that you often use over periods. These are those body parts with joints and tendons.
wrists and hands
forearms and elbows
neck and shoulders
Is Knitting Bad For Your Hands?
Fabric creation such as knitting is good for your hands and mind. If you do this activity in moderation, you are likely to experience its benefits.
Some knitters feel pains and discomfort when they tend to overdo the process. But, it is not fair to say that knitting is detrimental to your hands. This hobby gives a lot of benefits. This is true especially among the elderly and those with hand mobility problems.
According to the Arthritis Foundation, knitting can help exercise your arms and fingers. It improves the agility of one's hands and fingers. Knitting also helps fine-tune the hands and fingers of those undergoing mobility therapy.
Knitting is good for your hands and fingers. What gives its negative reputation is when knitters overdo the process. But if you knit in moderation and take breaks between rows, you will not encounter discomfort.
Why Do My Hands Hurt After Knitting?
If you knit for hours non-stop, you might experience pain on your hands and forearms. This is because you overuse those muscles over time. To avoid hurting your hands after knitting, take occasional breaks throughout the process.
For beginners, you tend to feel excited about finishing your first project. This makes you forget the time and continue knitting for hours. If you do this on a regular basis, it will soon take a toll on your hands and arms.
When you knit, make it a habit to rest your arms. Also, do some stretches to allow proper blood circulation in your body. This is good for your body, especially on your arms and hands.
Aside from the overuse of your hands and fingers, another culprit is you are knitting the wrong way. You may not be aware, but you could be knitting on bad body posture and your knitting movements are improper.
Some novice knitters are either too nervous or excited to start their first projects. Your fear of making mistakes tends to make you sit in a stiff position. You also tend to hold the needles tight and near the tips.
When you knit, it is important to sit in a natural and comfortable position. You may put a pillow under your arms to support you as you knit.
Another improper way of knitting is by holding your needles close to their tips. Holding them on these narrow parts will give you tight tension on your stitches, so it is hard pulling your yarn.
One more common incorrect knitting movement is holding your work near your face. This will strain your eyes and will cause cramping of your arms and elbows. To avoid this, find a comfortable seat and relax your hands.
Aside from these culprits, there are more serious conditions that cause your pain. It could be carpal tunnel syndrome, tendonitis, and tennis elbow. These conditions develop over time as you spend extended hours of knitting.
You have learned about Carpal tunnel syndrome earlier in this chapter. Tendonitis and Tennis elbow are more severe conditions of your repetitive movements.
How Do I Stop My Fingers From Hurting When I Knit?
You have learned that overdoing knitting is the main culprit of pain in your hands and fingers. In this chapter, you will have guidelines on how you can stop hurting your fingers when you knit.
The first key point that you need to keep in mind is to never knit over extended periods. Give your hands and eyes some time to rest.
Find a comfortable and well-lighted area to do your knitting. This will prevent stressing your eyes as you look at your stitches.
Sit well and relaxed. Avoid slouching as it will hurt your back, neck, arms, and shoulders. You may put support like pillows under your arms or on your back.
Set a limit to your knitting hours. If you tend to lose track of your time, set an alarm every 30 minutes. This will remind you to take some time off your knitting.
Stretch your arms, fingers, and body during breaks. This will prevent stiffness of your muscles. Stretching will also allow proper blood circulation.
Hold your needles the right way, and make proper knitting movements. If you want to find tips on how to knit without pain, check our previous posts. You can also learn the proper way of holding your needles on How Do You Knit Without Pain? post.
You can use finger protectors like a thimble to prevent hurting the tips of your fingers.
You may use bigger needles if your current needles are not comfortable to use.
These are practical guidelines that are easy to do and follow. Doing these will ensure that you will have pleasant and pain-free knitting.
Is Knitting Good For Your Brain?
Knitting is a perfect hobby to keep your mind active and sharp. According to studies, knitting is a great help, especially among the elderly. The following are a few mental benefits of knitting.
Knitting is relaxing. It allows you to forget your worries and anxieties on other things
It helps prevent dementia and Alzheimer's diseases. Knitting keeps your mind alert and focused.
Knitting is a great way to reduce grief and depression. When you knit, you become mindful of your project.
Knitting and other crafting hobbies are beneficial to your overall being. This is why you need to find a hobby that you will enjoy for years to come.
If it is your first time to do a crafting hobby, you get mixed emotions. You get excited and nervous at the same time. These different feelings you have tend to bring tension to your body.
You hold your knitting needles and your work too close to your face in the hope to avoid mistakes. But the more you do this, the more discomforts you feel. Oftentimes, you also get more mistakes.
Be mindful of your work while you enjoy the process. Avoid stressing yourself, especially your body. Allow some time to rest and stretch your hands and arms to avoid cramping and pain.
The best thing to avoid knitting pains is to relax and enjoy the process. Remember that knitting is not a contest. This hobby must be fun, so chill and take your time.