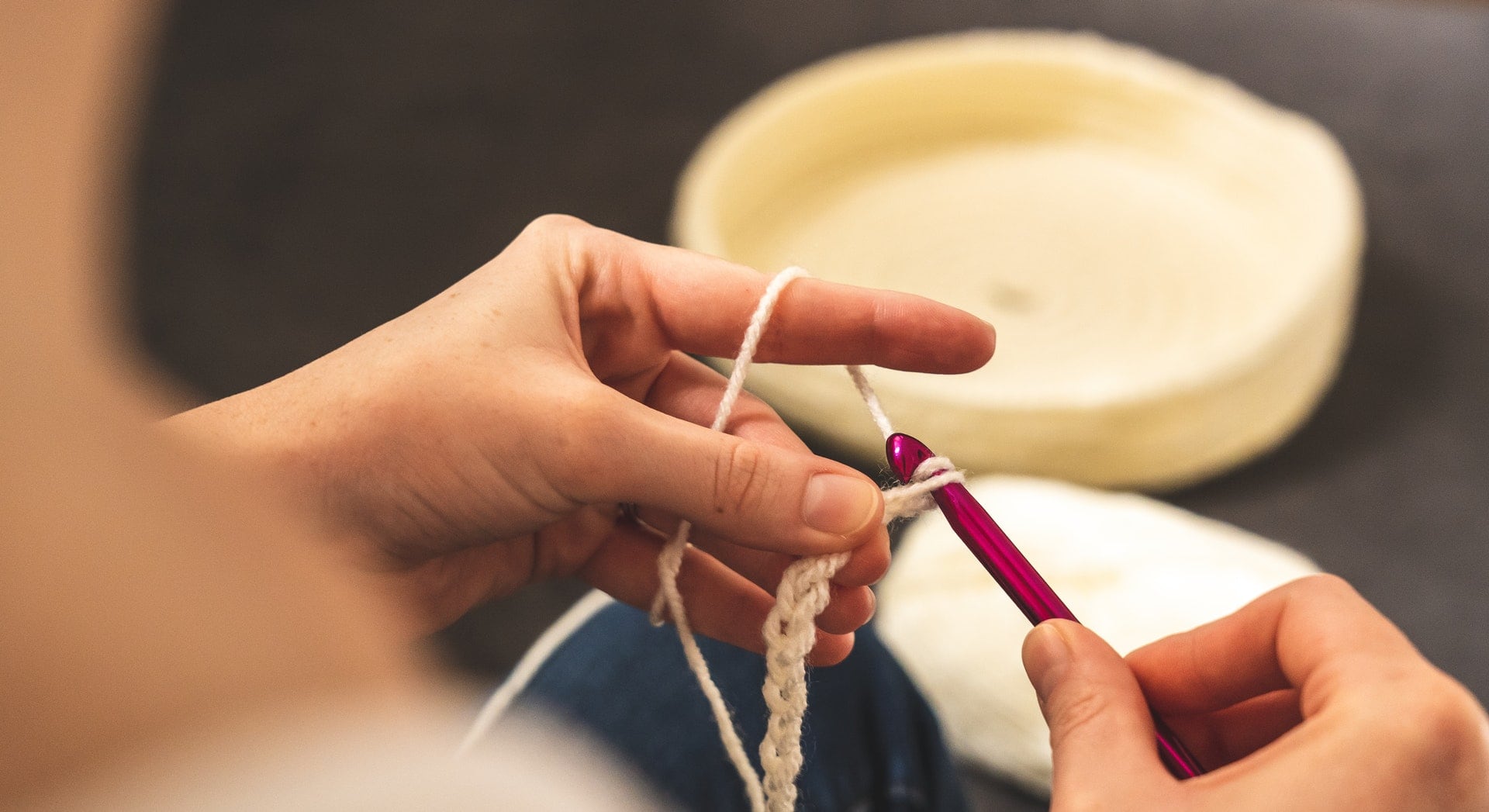 Crocheting may be something you like to do during your leisure time, or it is your chosen hobby. And you may think that you can take all your free time to crochet, but sometimes this is also the reason you lose momentum.
You may also think that only the experienced crocheters can pick up speed. But even those who are advanced in crocheting skills can attest that this is not true. There are several factors why novice or crochet experts take so long in finishing a project and reasons you can crochet faster, too.
Crochet enthusiasts confirm these reasons that make you crochet faster.
1. Determine your type of yarn.
Many crocheters can attest that if you use a thicker yarn, you will be able to finish your project in the least amount of time. There is nothing wrong with using a fine yarn, but projects using fine thread usually take forever.
You can find yarn in different weights numbered from 0 to 7 (0 -lace, 1- superfine, 2 – fine, 3 -light, 4-medium, 5- bulky, 6- super bulky, 7- jumbo). If you are hasty to see your finished product, you can use yarn types 5 to 7 to crochet. Using these bulky to jumbo types of yarn makes you work with fewer stitches, which correspondingly speeds up the process.
2. Choose the right size of the hook.
Crochet hook sizes vary just as yarns also have different weights. Crochet hooks even those with ergonomic designs come in sizes as small as 2.25mm and as large as 25mm. A small hook, like fine yarn can slow down the crocheting speed. This idea may not hold for all crocheters as some are more comfortable working with smaller hooks and finer yarn. For newbie crocheters, a larger size hook is recommended to crochet faster and more efficiently.
Picking a larger crochet hook can help speed up the crocheting process since you will be using a bulkier yarn to pair with it. You increase your crocheting speed when you use the right hook recommended on the yarn ball label.
If you have been crocheting for quite some time, you may also gather your speed from finding the size of the hook that you are comfortable working with.
3. Pick an easy pattern.
Browsing through different gorgeous crochet patterns and stitches may tempt you to work on a complicated piece. Some crochet patterns are quite hard to perform because of its intricate stitches. If you pick a design or stitch that you are comfortable in, you will be able to quickly finish a project.
Pick a stitch where you are good at and use it on the pieces that you want to finish as soon as possible. The star stitch or the ripple stitch may look complicated, but once you get the hang of it, you can work through your pattern without focusing on it too much. Using a stitch that is highly familiar to you can make you crochet faster. It would be best to schedule crocheting the more complicated ones like bobble or cable stitch for the long rainy days.
4. Find a good sitting position.
Crocheting does not only depend on the wrist and hand movements but involves the whole body as well. A good posture while crocheting is essential if you want to work on your project faster. Slouching will cause back pain and will tire you quickly.
Find a spot in your house where you can sit comfortably and have enough lighting to see better what you are working on. Finding a nice place to relax and do your crochet can make your work without delay. Keep in mind that crocheting is not supposed to be a tiring task but an enjoyable one.
Your aim is to enjoy your hobby as you speed through your goal.
5. Practice
Practice not only makes perfect but makes you crochet faster also. In crocheting, the only way to speed up is to create a pattern with a lot of repetition. You will be able to memorize your favorite stitches with lots of practice.
Your fingers will get familiar with the hook and yarn you usually use for crocheting—the speed of your fingers when crocheting depends on the amount of experience you have been doing it. Your speed in crocheting will come naturally with time and practice.
6. Know the comfortable way to hold your hook
The way you hold your hook has a significant influence on your speed to crochet. You can hold your hook in many ways, but two of the most familiar ways to hold your hook is the pencil grip or the knife style. Test out which one you find most natural to work with.
Your comfortable way to hold your hook may be different from your neighbor, but it does not matter as long as it is convenient. Find that one form that is most suitable for you and will make you finish your projects faster.
7. Relax and enjoy the experience
You may have your reasons for crocheting and why you want to finish your crochet projects the fastest way you can. You may be crocheting because you love giving away something so personal that you have created with your own hands. Or maybe you just want to relax, put your feet up after a long day with crochet hook and yarn on your hands.
Whatever your reasons are, there will be a point in your crocheting journey that you would wish to speed up so you can finish more projects and try out more exciting crochet stitches. And this will only happen if you are working on a project that holds your interest, be it a humble blanket or a challenging sweater.
One of the best tips actually so that you can crochet faster is to relax and just enjoy your crocheting moment. Keep in mind that you crochet to relax and unwind. Crochet often so you will become faster at it, and it will become second nature to you.
Bonus steps:
Each person has a unique way to focus on a task on hand. Crocheting is a hobby that needs a certain amount of concentration because you can never recover spent time working on wrong stitches. Concentrating on making your crochet stitches right lessens time wasted and make you finish your project quickly.
Some prefer quiet, distraction-free places like the library or a favorite spot at the park to crochet. Others require a little background music, listening to a podcast, or even watch tv while crocheting. Different strokes for different folks as the saying go.
What works best for you may not be good for others. Taking away distractions like food, computer games, and phones can increase your crocheting speed. If you want to finish your crochet project faster, choose your inspiration or remove your distractions.
For crocheters, tangled yarn is a big issue, especially if time is essential to you. Some crafters have formed their solutions in dealing with this usual time-delay problem when crocheting.
If you can find yarns that you can pull the loose end at the center, it would be quite helpful in speeding up your work. While some skeins of yarn can give you a headache when you lose momentum due to tangles, different yarn accessories can help keep the flow of yarn smooth while you do your crochet stitches. Sans accessories, you can also try pulling out a few loose yarns at a time.
Your speed in crocheting certainly depends on how your thread flows smoothly from your skein of yarn. If the yarn you bought does not come in a ball, it is better to untie it first, then form it into a ball. It is easier to pull from a ball of yarn and lessen delays due to tangles.
Another yarn difficulty that crocheters also experience is holding the yarn on your fingers. There are a variety of ways you can catch the thread and avoid having tangles. You can watch crochet videos where crocheters demonstrate the way they hold the yarn. One way is to spread your fingers wide and wind your thread through them.
Try out the different methods and see which one works best for you and makes you crochet faster.
If you are chasing your ball of yarn at all times while crocheting, you may need to do something to keep it in place. Place your yarn in a place you can reach without difficulty. Put it in a spot where it will not fall or get tangled on other things.
You can put it in a basket in front of your chair or on the table. Or you can put it on your lap or near your feet so you can crochet smoothly.
Choose the fastest crochet stitches.
Picking the fastest crochet stitches for your projects can also be a significant factor in your crochet speed. Crochet aficionados have made a poll on what the quickest crochet stitch is. Based on the survey, crocheters find the double crochet stitch as the fastest to work up.
The double crochet stitch is a favorite to many because it has just the right number of yarn overs and loops. The double crochet is also a great stitch to combine with other stitches for blankets and other simple as well as complex crochet projects. Double crochets are great to use on afghans because of its soft and flexible pattern.
The next fastest stitch to do is the half double crochet. It is almost the same as double crochet, except it is missing an extra yarn over and pull through, which makes it look snugger and tighter in appearance. Being taller than the single crochet, it makes your rows work up faster as you go.
But it is indeed true that whatever stitch you do the most makes you crochet faster. You become more comfortable with the pattern or stitch that you repeatedly do. Some crocheters even speed away using familiar stitches automatically.
Newbie or not, if you want to finish your project in the least amount of time, determine your comfort zone, or in this case, your comfort stitch and true enough, you will reach what you are aiming for.