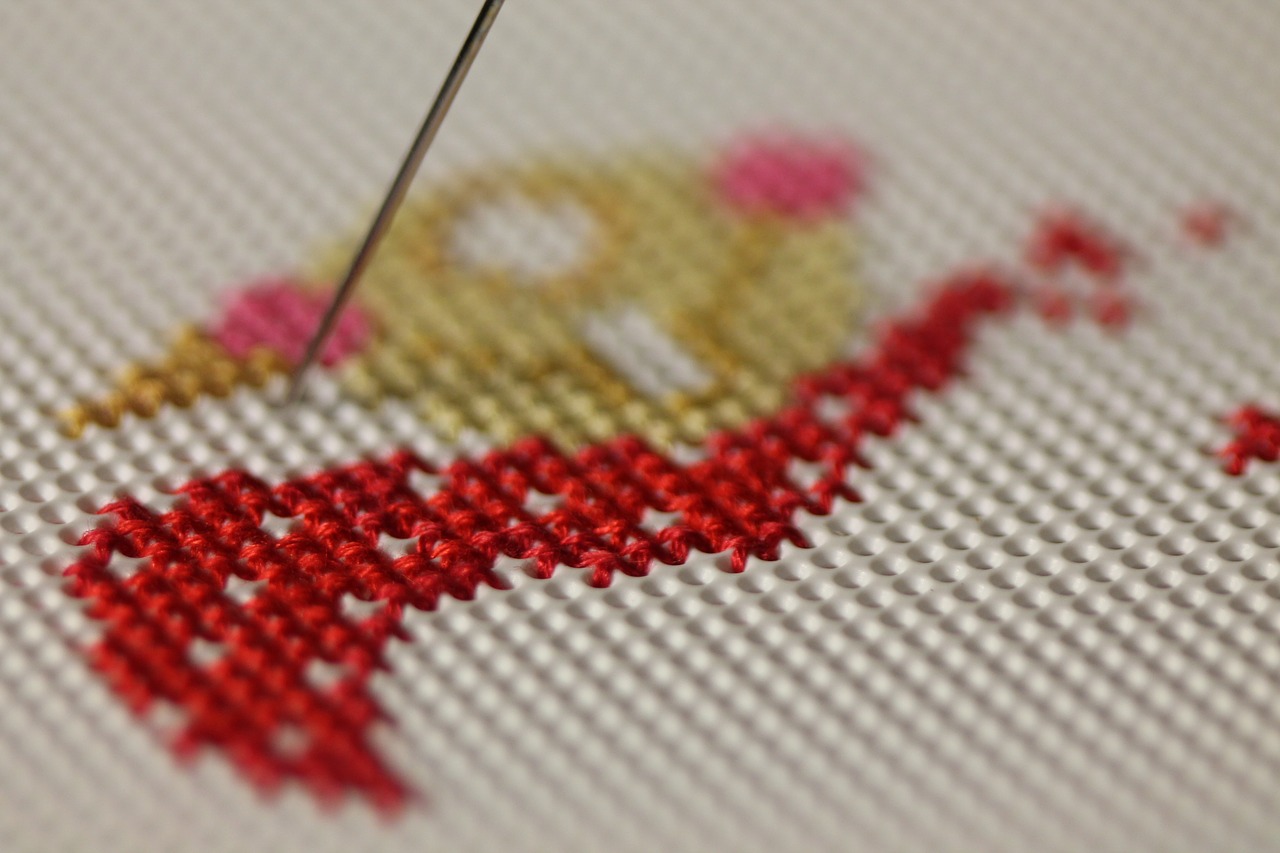 As a cross stitch newbie or enthusiast, you might have come across some paper with tiny punched holes among cross stitch supplies in craft shops. You call them perforated or punched paper.
Perforated paper is a type of craft material that you can use as an alternative to fabric that you can cross stitch on. Although it is called paper, perforated paper is more of a lightweight card with equally-spaced holes punched. Its appearance is similar to an embroidery canvas.
Perforated paper is an interesting alternative to Aida cloth. It is the ideal material when you want to stitch smaller items like bookmarks, greeting cards, or ornaments requiring a rigid finish.
What is perforated paper?
Perforated paper is a stiff paper with regularly-spaced holes where you can do cross stitch designs. It usually comes in white, brown, and black, but you can find some painted in metallic or other colors. Perforated paper is usually sold as 14-count A4 size sheets, which you can cut according to the size you need. The perforated paper's cost is almost similar to the 14-count white Aida cloth, with the painted versions a bit pricier.
The use of perforated paper is not new in cross stitching. In the 1820s, the perforated paper has been utilized to create bookmarks and cards with sayings or quotes, usually from the Bible. The Industrial Revolution in the 19th Century allowed mass production of perforated paper. During that time, perforated paper and sewing cards are easily available for stitchers. The stitched perforated pieces created were handed out as gifts to remember personal or historical events. Some stitched punched papers were also used as home decors then.
The common type of perforated paper you can find in the US these days is the 14-count. However, you can also find punched cards in 18- to 20-count sizes. You can usually find perforated paper sold in packs of two.
When would you use perforated paper for cross stitch?
You can find patterns available specifically for perforated paper. But you can use any cross stitch chart as long as it has only whole cross stitches and backstitches. Fractional stitches are not well-suited to stitch on perforated paper.
If you are looking for other ways to do your cross stitch, perforated paper is another fascinating way that you can try. It is the ideal method to stitch small cross stitch projects.
Perforated paper is stiffer than Aida fabric. That is why you can make various stand-alone small items like cards, small jewelry bowls, and hanging ornaments with them. You can also add beads to enhance your designs.
Cross stitching on perforated paper is also a great way to make use of your precious leftover threads.
How do you cross stitch on perforated paper?
The perforated paper has some unique properties and advantages over a canvas. If you are a newbie at cross stitch, perforated paper is ideal for making small cross stitch items to practice on. Perforated paper is rigid, so it does not need tension hoops and does not fray at the ends.
Right and Wrong Side of Paper
Before starting your stitches, check the right and wrong sides of your perforated paper. In some brands, there is a distinct difference between the right and wrong sides of the paper. Compare the surface on each side. The wrong side feels rougher around the punched holes, so it should be the backside of your stitching. If the perforated paper is painted or colored, the painted side is the area where your stitch.
Right Needle Size and Right Amount of Strands
When stitching on perforated paper, it is important to use the correct needle size and the right number of strands. Your needle must be smaller than the hole size as the paper is not as flexible as fabric to adjust to the needle size. Your thread must flow easily through the holes, so there is no danger of ripping your perforated paper.
For the 14-count size paper, the usual needle size used is a size 24 needle. The number of strands to use depends on the stitcher's preference, but the norm that stitchers use is two strands for the 14-count paper. If you want a little more coverage, you can use 3 to 4 strands of thread. Using more threads for your stitches can make your design look more vibrant, but the downside is it uses a lot more threads.
If you want to use the 18- or 20-count size perforated paper, you must use a size 26 needle and a single strand of thread.
Right Way to Stitch
Perforated paper is quite sturdy, but it is still paper, so you need to handle it with care. Folding your punched paper can damage or crease it, so placing it into an embroidery hoop is not a great idea.
When stitching, make sure not to pull your threads too tight as they may rip through the holes. Using metallic threads to stitch is usually prone to ripping the paper. No worries, though; if you made a little tear on the paper, you could still repair it.
You can stick transparent tape at the back of the paper where the tear is to prevent ripping your paper some more. Or you can patch the damage with a spare piece of perforated paper. Then you can punch through the tape to continue your stitches. You will not see your repair patch on the front side of your work.
The only stitches you can use on perforated paper are whole stitches and half stitches. Using the other fractional stitches will be quite difficult to do and may damage the perforated paper. Remember that the only way to stitch on perforated paper is by the stab and stitch method.
After stitching your whole stitches and half stitches, you need to do the backstitches to define your cross stitch design. When creating your backstitches, try to avoid going over just one hole. Doing so increases the tension on that hole which may cause it to rip. Making your stitches longer avoid putting too much stress in one area.
You usually use two strands of thread in backstitching. Making backstitch lines may require a sharp needle that can go easily through the holes which have been stitched already.
Right Techniques and Practices
Perforated paper cannot be washed, unlike canvas, so ensure that your hands are clean before stitching. Another way to keep your stitching clean is to cut 3 to 5 inches larger than your stitching and finishing area. This technique gives you space enough to cut off any soiled or creased edges from holding your work as you stitch.
Spills and stains are also off-limits to perforated paper because aside from being unable to remove them, they may also damage your work. Avoid getting your perforated paper wet during or after stitching. Water can make the paper weaken and tear along the stitches.
The back of your cross stitch piece on perforated paper must be flat as possible. To make this happen, make sure that you do not run threads a long way across the back. Catch them down through some finished stitches. Make sure that no loose ends are dangling.
When there are large gaps between stitches, do not run threads along any of these gaps as they can be quite visible through these unstitched areas.
How do you finish cross stitch on perforated paper?
Finishing cross stitch on perforated paper is easier than on fabric. Most cross stitch pieces made on perforated paper are relatively small. You will need a pair of sharp scissors to cut around the edge of the design. Use a different pair of scissors for cutting paper and a different one to cut your threads.
To cut around the design's edge, you can cut through the next row of holes away from the stitching. You also have the option to leave a bigger border if you want to frame your completed cross stitch. When you cut through the center of the holes, you leave slightly serrated edges. If you want a smooth edge around your design, cut slightly near the stitching. But, be extra careful as you might accidentally cut through the stitching and get them undone.
What can you make with perforated paper?
You can make various items with perforated paper. The finished items you will make can be flat or 3D. Punched paper cross stitches usually produce small and cute items like bookmarks, small ornaments, and tiny bowls.
The interest in stitching on perforated paper has been revived lately. But you must note that giving a heartfelt token or a small souvenir has never been out of fashion. Making cross stitches on perforated paper is an ideal way to create personalized tokens for family and friends.
You need only a few things in making perforated cross stitch pieces. Below is a list of the basic materials that you will need.
14-count punched paper
Size 24 needle
Paper scissors
Embroidery Scissors
Cross stitch pattern or motif
Pencil
Double-sided tape
Here are a few samples of small things you can do with thread and perforated paper and the finishing methods you can apply:
Bookmark – Cut out a small motif into a bookmark and back with felt.
Fridge Magnet – Back a small motif with felt then, attach a small piece of magnet tape
Cake Topper – Glue a small design on cardboard, attach a barbecue stick at the back then, decorate your cake
Greeting Card – Glue the stitched design on a card, and you have a greeting card
Pin – Cut the unwanted edges, back small motif with felt and attach a pin to the back.