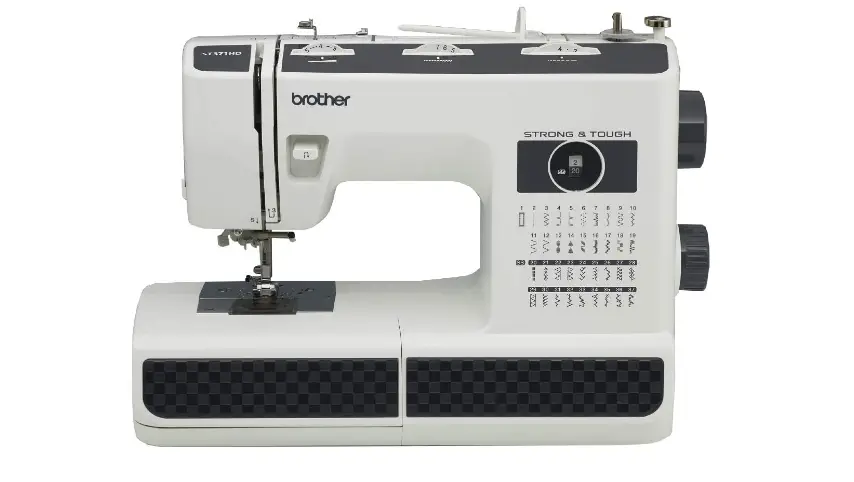 If you are looking for a heavy-duty sewing machine that would not break the bank, BrotherST371HD and Singer 4452 are two of your leading options. These two sewing machines each have their prime qualities over each other and their contemporaries that you will learn about as you read on.
For a heavy-duty sewing machine that can give you great value for your money, Brother ST371HD weighs in more in stitch selections and accessories than Singer4452. It is a great mechanical heavy-duty sewing machine that is also capable of the usual sewing tasks. The Brother ST371HD lives up to its emblem, "strong and tough," being the reliable heavy-duty sewing machine you can get at a bargain price but does the job and more.
Brother ST371HD Main Features
The Brother ST371HD is the first heavy-duty sewing machine made by Brother and made it off to a good start. It is a beginner model which can be used on everyday sewing tasks but is also great when working on heavyweight fabrics and multiple layers. The Brother ST371HD is a reliable basic sewing machine that is very easy to use but not hard on the budget.
The Brother ST371HD has an automatic bobbin winding system to make it easier for you to switch to a different thread easily. You can load other bobbins quickly with different threads with the automatic bobbin winder.
The machine has a quick-set drop-in top bobbin which is also jam-resistant. You can easily set your bobbin into its holder with a transparent cover so you can see if you are already low on thread.
The Brother Strong and Tough sewing machine has a built-in automatic needle threader where you can press on a little lever to help you with the tedious task of threading. A frayed or large thread is not a problem to fit into a small needle's eye with the automatic needle threader.
The machine accepts heavyweight needles that can handle multiple and thick fabrics. It can also handle needles that can be used on light and delicate fabrics.
The BrotherST371HD is built with a metal needle plate to facilitate smoother fabric feeding and heavyweight needles.
The BrotherST371HD is equipped with 37 utility and decorative stitches. The number of stitches allows variety and versatility in choosing stitches for your sewing projects.
Singer 4452 Main Features
The Singer 4452 Heavy Duty sewing machine is true to its name as it can work on thicker fabrics and long seams. It is also commended for its speed, making it easy and fast to finish a sewing project. In addition to a smooth and swift workflow, the Singer 4452 is made of a robust interior metal frame, making it a reliable heavy-duty sewing machine that you can get at a very reasonable price.
The Singer 4452 Heavy Duty sewing machine sews at a maximum of 1100 stitches per minute so you can finish your sewing projects in no time.
Automatic Needle Threader
The sewing machine has a threading path printed right on the machine leading to threading your needle using the automatic needle threader. The built-in needle threader prevents you from having eye strain in threading your needle.
The Singer 4452 is an ideal beginner sewing machine which has six basic stitches, seven stretch stitches, 18 decorative stitches and one fully automatic one-step buttonhole stitch; just the right number of stitches you need for sewing garments, crafts and home decors.
The heavy-duty sewing machine has a stainless-steel bedplate allowing a smooth fabric flow while you sew.
The Singer 4452 has an interior metal frame making the machine stable to work on even if you are sewing fast. The heavy-duty interior metal frame also ensures a skip-free sewing.
Similarities and Differences
BrotherST371HD and Singer 4452 are both identified as heavy-duty sewing machines. Here we will compare how they differ and how they are alike.
Motor Speed
The most apparent difference between these two top heavy-duty basic sewing machines is their motor speed. The Singer 4452 can sew faster with a speed of 1100 stitches per minute than the BrotherST371HD, which runs at 800 stitches per minute. The high sewing speed of the Singer 4452 has been one of the machine's selling points and edge over similar machine types.
Built-in Stitches
The number of built-in stitches is where the Brother ST371HD leads. It comes with 37 built-in stitches, while the Singer 4452 has five fewer built-in stitches; making only 35 stitches. For a sewing expert, it is advantageous to have more built-in stitches as you can make more varied designs on your sewing project.
Presser Foot Pressure
The Singer 4452 has an adjustable pressure foot pressure, while the Brother ST371HD has a preset pressure foot pressure. Having an adjustable presser foot pressure is advantageous, especially when you are working on very thin or thick fabrics. Brother ST371HD is identified as a basic sewing machine which can explain why it has a preset presser foot pressure since newbies in sewing would not find it necessary to adjust the foot pressure. Having an adjustable presser foot pressure just like in the Singer 4452 is favorable to sewing experts who want to use this heavy-duty sewing machine.
Stitch Width
The Brother ST371HD has a maximum stitch width of 7mm compared to the 6mm of the Singer brand. A wider stitch width shows greater flexibility of the Brother brand.
Machine Weight
For a basic sewing machine that you would likely use for your daily sewing tasks, a lighter sewing machine would have the lead. But in this aspect, the Brother ST371HD and the Singer 4452 do not differ much. The singer 4452 weighs 14.6 pounds, while the Brother ST371HD weighs 14.3 pounds. You will not have any difficulty carrying any of these machines around the house or take to sewing classes.
Stitch Selection
Although sewing ability will not be affected by the stitch selection dial's location, it is only proper to indicate their different locations in these two heavy-duty sewing machines. Brother ST371HD's dial is on the side, which is not the usual place where you see the dial which is in front.
Work Light
Good lighting is needed to create smooth and clean sewing work. It is good that both sewing machines have ample lighting using LED lights.
Machine Type
Both heavy-duty sewing machines are mechanical types and not computerized. These machines have basic mechanisms but are manufactured to be used in the sewing room for a long time.
Sewing Ability
Both machines are built to work on different fabric kinds, from the thinnest to the thickest ones. Both of these sewing machines are good on denim and lightweight fabrics. They are called heavy-duty also for being able to take on multiple layers of materials.
Accessories
In terms of accessories included, both sewing machines hardly have any difference. The Brother ST371HD has 7 presser feet while the Singer machine has 6. Both include bobbins, screw driver, instruction manual, dust cover, etc. that can be normally found in the sewing machine package.
Warranty
Both brands have a 25-year limited warranty and are robust enough to last you a long time with whatever type of fabrics you are working on.
The two heavy-duty sewing machines do not differ much in terms of functionality and built. Both are also made by trusted and leading manufacturers of sewing machines for many decades. So, the option now rests on the user's skill level and brand preference.
Price and availability
The BrotherST371HD and Singer 4452 are basic mechanical heavy-duty sewing machines that are top brands and popular. The Singer 4452 is within the price range of $195 – $252, while BrotherST371HD is on the higher end of the price range of $252 -$309.
Both machines are available online and can be easily found on Amazon, where you can check great sewing machine deals and prices.
Customer Reviews and Recommendations
Different people have different needs and requirements from their sewing machines. As a newbie about to go on board with a basic sewing machine, you would want your first equipment to give you a good experience. For sewing experts, analyze the important parts that you can identify with among people of your same interests.
Compiled here is a review of the heavy-duty sewing machines BrotherST371HD and Singer 4452 from actual sewing machine users and customers.
Brother ST371HD
– The machine sewed through 6 layers of heavy denim and did a good job. It is pretty straightforward to learn how to use.
– Once I had the machine out of its box, it was set up in minutes. I prefer the mechanical machine over the computerized ones. The extra stitches on the computerized machines go to waste as embroidery is mostly done by hand. I appreciate that none of the stitches skip, and it is easy to start sewing at the edge of the fabric without having to hold threads in the back. I am a very satisfied customer.
– The machine sews well on basic fabrics that are medium to lightweight. Each fabric requires a different kind of needle. The light on this machine is substandard. I'm not sure if it is LED or not, but the quality is terrible. I'm not impressed with the overall construction of this machine.
– Great machine! Five layers of sailboat canvas and whizzed right through them. The Brother ST731HD took on the task just as advertised.
– Comparing to Singer 4452, the build quality feels a lot better, and the pedal is easier to use for control. You will get a lot more for a bit less with the Brother.
– The feed dogs are very sluggish with anything heavier than a mid-weight fabric. I wish I had done a more in-depth search for reviews for this machine. It seemed like most reviews were favorable.
Singer 4452
– Easily cuts through stacks of Cordura, webbing and the like. You can set the needle position both to the left and right; you can get the stitch on webbing around buckles much tighter to the buckle than using the Brother. The only con is that it needs to get off on a running start.
– This Singer Heavy Duty sewing machine had no trouble stitching thick fabric. The motor just breezed through the job. Impressive.
– This machine blows similarly priced machines from its competitors' way. More durable, sturdier than expected for the price and weight. Easy to feed silky fabrics as well as upholstery fabrics.
– It did not work well from the first stitch. Very few things work well on this machine.
The reviews were a mix of newbies' and experts' positive and negative experiences for both brands of heavy-duty sewing machines. Finding the right sewing machine, whether it is your first or an addition to your collection, can be based on the analysis of actual users' reviews and feedback but most importantly upon your discretion.
Also check: 
Brother CS6000i and the Singer Heavy Duty 4423
People Also Ask
Here are a few questions people ask about BrotherST371HD and Singer 4452. Most questions are elaborations on the features and advantages that the specific sewing machine provides.
Can BrotherST371HD sew through many layers of denim?
The BrotherST371HD Strong and Tough sewing machine can sew through many layers of denim. This mechanical heavy-duty sewing machine was built to work on heavyweight and multiple layers of fabrics.
Is the Singer 4452 portable?
Even if the sewing machine has an interior metal frame, the almost 15lbs Singer 4452 is still easy to carry around. The outer parts are mostly made in plastic to keep the weight in check as most of its users will be beginners who may attend sewing classes.
Can I use the BrotherST371HD sewing machine for sewing with jersey/knit fabrics?
Yes, there are stretch stitch settings. The elastic overlock stitch works with elastic fabrics that need more stretch than the usual fabrics.
Will the Singer 4452 sew leather?
The machine can sew leather, providing one uses the correct needle (a leather needle), presser foot, thread and stitch settings for the weight/thickness of the leather.