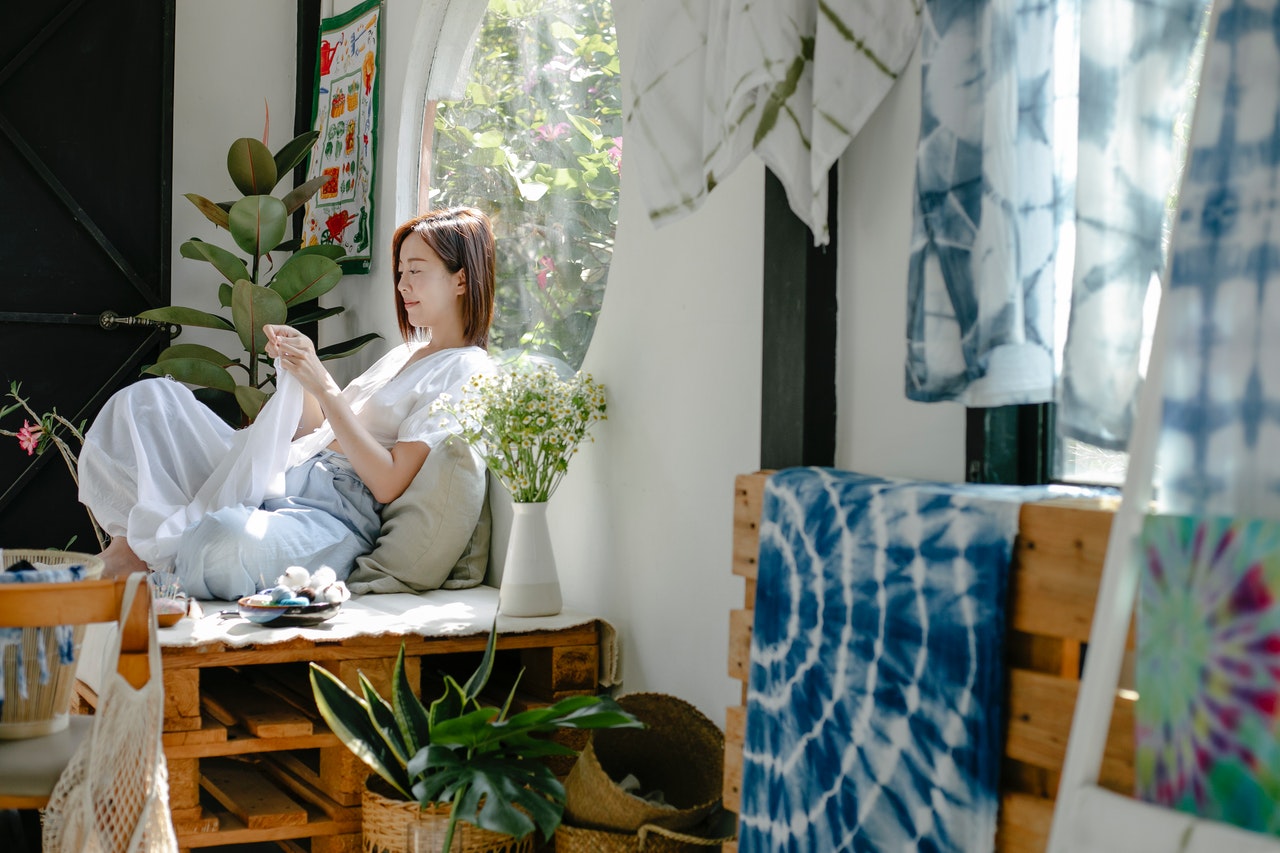 Many beginners have lots of questions about learning to sew. They wonder if they will enjoy sewing or if anyone can sew. My answer is yes! Anyone can learn to sew. But, although it can be reasonably easy, it might not be the right craft or hobby for everyone.
Although sewing is a helpful skill worth learning, it has so many layers that overwhelm many people. Some immediately stop trying at the thought of broken needles or machines. And sometimes, the methods that seem complicated can be too much for a person.
It is best to know more before you try sewing or completely give up on trying the craft. So, let me share some things you should know to help you decide if sewing is worth trying.
Sewing can improve your well-being.
This benefit does not just apply to people who are good at sewing. Doing something creative regardless of your skill level brings positive impacts. Studies also show that activities like sewing can help you reduce stress and build confidence.
Every time you pick up your needle and sew or learn something, note that you are not only creating fabrics. You also strengthen your coping mechanisms, ease your anxieties, and build your confidence.
Sewing allows you to express your individuality.
Sewing your clothes allows you to incorporate your style and avoid certain limits. You can create unique pieces that are suitable for your preferences and taste. When you make your clothes, no one else will have an identical piece. It also guarantees that they fit you perfectly!
But, do not worry too much because you do not have to make clothes from scratch. You can learn a few stitches and customize the clothes you already have. Bring out your personality in every stitch!
Besides bringing out your personality, you can also incorporate a loved one's style with sewing. You can create unique and personalized gifts for your family and friends. It shows that you value your relationship and do not mind spending time creating something special for them.
Sewing reduces your environmental impact.
As brands focus on making cheap clothes, consumers continue to throw more clothes. Unfortunately, this disposable clothing mentality produces too many non-biodegradable wastes. These wastes are not beneficial for the environment because of the pollution they cause.
By sewing your clothes, you are reducing your impact on the environment. The pieces you create can last for years longer than those produce by fast fashion. Even if you stop wearing the clothes you make, you can pass them on or give them to charity.
But, note that you can still waste around 30% of the materials you buy. So, it is best to make the most out of your materials whenever you sew. You can cut your fabric carefully and reuse them, so you do not produce too much waste.
Sewing may not always be cheaper.
Although making clothes is can sometimes be cheaper, sewing is not cheaper at all times. It is best to have quality tools and materials to ensure your clothes' quality, which sometimes costs a lot.
The money you spend on machines, threads, fabrics, and others can add up quickly. You also need to factor in the long hours you spend on your pieces. But, it gets better as you develop your skills. After spending hours of practice, you will see that sewing begins to pay for itself.
Sewing is detail-oriented.
Every detail in sewing is essential because they all affect your finished product. So, if you do not like spending time looking into details, then sewing might not be for you.
Note that even the tiniest details can make or break your projects. You will need to pay attention to big and small details to make sure you do not ruin your piece. So, if too many details can easily make you crazy, again, sewing might not be for you.
Sewing needs lots of preparation.
One common misconception in sewing is that all you do is sew. But what many people do not know is that it takes a lot of preparation before you can do so. Sewing is only about ¼ of what sewers spend their time doing.
Before you can make all the stitches, you will read through patterns, find the best materials, and make a swatch. Sometimes, you will also make alterations to patterns, which can take time.
You will discover that there are parts of sewing that you will enjoy more than others. But, if you did not find satisfaction in planning and preparation, you would not enjoy sewing too.
But, remember that there are more things to consider. For example, you may find that even though you do not like the preparation, finished pieces give you satisfaction. You may also find ways to cut costs or make things work without the tiny details.
In the end, learning to sew still depends on you and your needs. It is best to learn the craft because you want to, not because you feel like you should. You will also see that loving the craft will make things easier for you to learn.
How long does it take to learn to sew?
Besides the things I listed above, it is also best to factor in the time you spend learning to sew. The amount of time you need to learn sewing varies for each person. It depends on how fast you can pick up the skills. But generally, it can take one to a couple of weeks.
Remember that sewing is a process, and it will take time before you create your first garment. But, with patience and diligence, you will experience the gratification that comes with sewing.
Reading and understanding patterns are also areas of sewing that you will gradually learn. So, it is best to start with simple patterns first. By doing so, you will have more time practicing and developing your skills.
What is the easiest thing to sew for beginners?
Sewing simple basic patterns is an excellent way to practice your sewing skills. Do not worry because there are many fun and beginner-friendly sewing projects! Here are some of the easiest things to sew for beginners:
Cup cozies
Clutches
Aprons
Accessory cases
Tote bags
Table runners
Pillowcases
Zipper pouches
How to sew a cup cozy?
Are you looking for the easiest sewing project to convince you to learn sewing? Then you came to the right place! Cup cozies are one of the easiest things to sew, and they are excellent gift options too. Follow this guide to learn how to sew a cup cozy:
What you need:
Ruler
Pins
Scissors
Needle
Fabrics
Batting
Thread
Hook and loop tape
What you need to do:
1. Create a pattern.
Mugs and cups come in various shapes and sizes. So, it is best to make your pattern before starting your project. Then, customize this cozy according to your chosen cup's measurements and follow the guide below.
For large mugs (around 19 inches circumference and 5 inches height):
Body pattern = 4×18 inches
Tab = Measure ¾ inches down on a 4-inch edge. Make sure to extend a line 3 inches out from the four-inch edge. Then, measure down one and a half inches from the 3-inch line and make a rectangle forming the tab at the end.
For medium-sized mugs (around 12 inches circumference and 4 inches height):
Body pattern = 11×3 inches
Tab = Measure ¾ inches down on a 4-inch edge. Make sure to extend a line 2 inches from the 3-inch edge. Then, measure down one and ¼ inches from the 2-inch line and make a rectangle forming the tab at the end.
For small mugs (around 10 inches circumference and 3 inches height):
Body pattern = 9×3 inches
Tab = Measure ¾ inches down on a 4-inch edge. Make sure to extend a line 2 inches from the 3-inch edge. Then, measure down one and ¼ inches from the 2-inch line and make a rectangle forming the tab at the end.
2. Cut your fabric.
Lay your pattern using a long body side edge as a grainline. Then, lay the fabric over the pattern and cut it out. Remember to place the fabric's right sides together when cutting. Doing so will give you two pieces that line up correctly.
3. Place a hook and loop tape.
Sew the hook tape ½ inch from the edge, centered on the short edge. Make sure to do this step on the backside of the fabric, along the end without the tab. Then, on the right side of the front, sew the loop on the tab. Again, make sure to center it on the tab's length.
4. Pin your fabric and sew the cozy.
Place the right sides of the two pieces matching all the edges together. Next, lay the batting under the fabric and align their edges. Then, pin all the layers together to keep them in place.
Sew the edges together using a ¼-inch seam allowance. Make sure to leave a 3-inch opening at the body's bottom toward the tab. Doing so will help you easily turn the fabric right side out.
Next, trim the corners, clip them, and grade the seam allowance. Then, turn your fabric right sides out through the seam opening. You will also turn in the unsewn seam allowance, pressing the seam allowance inside as if you sewed it.
5. Finish your cup cozy.
To finish, you will hand-sew the opening and press your piece well, so the seams are at the edges. Finally, topstitch the entire edge to keep the stitching an even distance from the edges.
Is it easy to learn to use a sewing machine?
Using sewing machines is one of the things you will eventually learn in sewing. Learning to use a sewing machine is not too challenging, but it will take time. It can sometimes be overwhelming and frustrating. But, learning the basics will make a significant difference.
Learning to use a sewing machine can help you complete projects much faster than hand sewing. The stitches they produce are also usually stronger and have consistent lengths. So, if you wish to learn how to sew, sewing machines could be worth the investment.