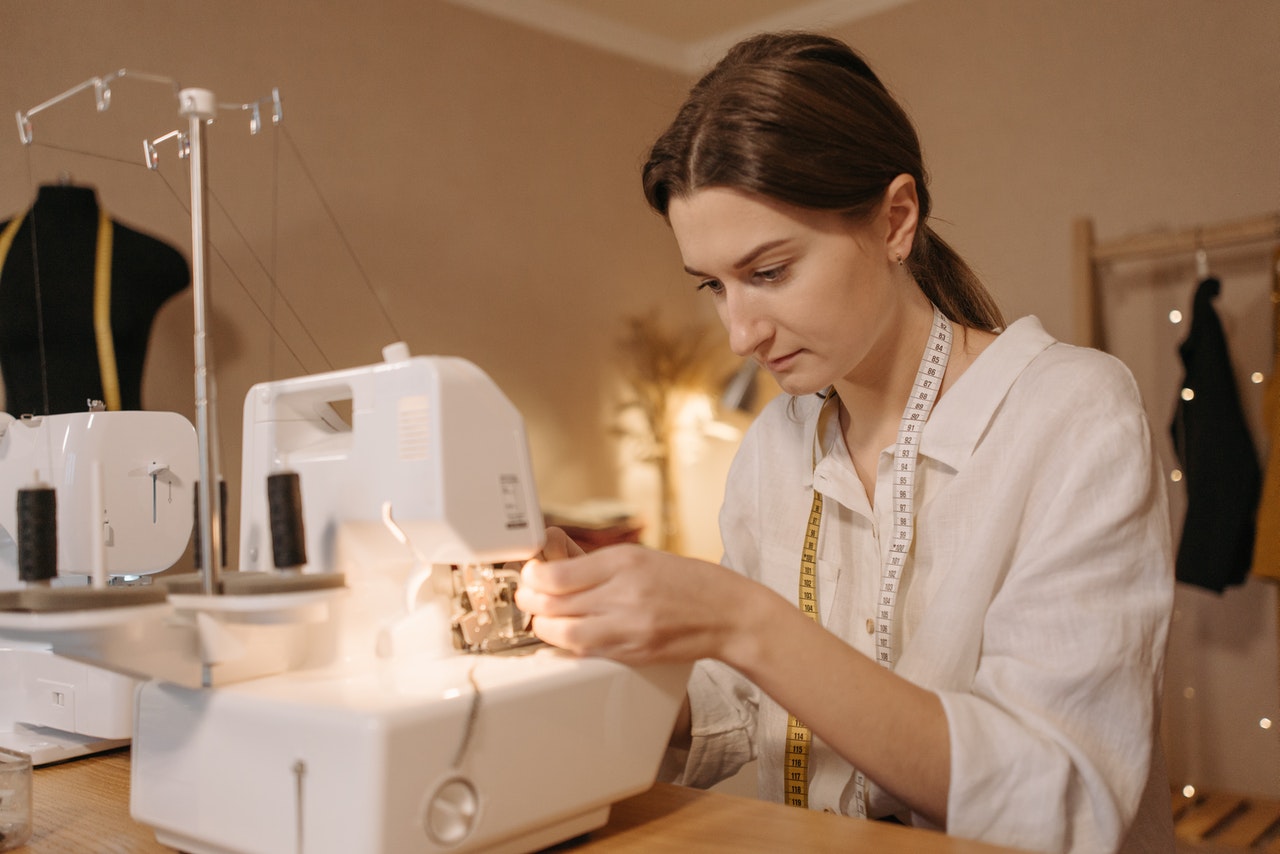 Nylon responds better to patches because it is thicker and more durable compared to other fabrics. So, you can sew patches on nylon, but it is best to learn the techniques because it is an intricate process that can significantly affect your garment.
Nylon is prone to deterioration, so it is vulnerable to damages. As a result, many people traditionally used patches to cover up broken, torn, or unpleasant sections of fabrics.
But now, you can use patches for various purposes. For example, you can use them to give outfits a sophisticated and unique look. So, it gives your garment a special appearance while also serving a functional purpose.
Some people also use patches as markers for persons in a specific organization. For example, you will see some on military clothes, some personalized patches on the jerseys of sports teams, while others indicate ranks in groups like scout clubs and youth groups.
But patches, as you may have gathered from this post, are delicate additions to your clothing. They use sophisticated threadwork embroidered into your cloth just on the sides. So, it is also critical to clean it with care.
To clean them, you can use brushes with delicate bristles. Also, it is best to avoid using harsh soaps since they may cause the color to be released and use hand cleaning techniques instead of harshly rubbing.
Dry cleaning is another viable alternative. Also, it would help if you avoided machine washing at home or outside, and while dry-cleaning, always turn the jacket inside out.
How to Sew Patches on Nylon?
Generally, to sew patches on nylon, you must first keep your patch in place, ensuring that the right side is facing up. Next, hem the patch onto the fabric from the jacket's opposite side. Then, turn the nylon jacket over and sew the hole edges to the patch.
However, you can also sew patches on nylon using various techniques, depending on their type. For example, you can hand-sew zigzag stitches for applique patches or use a sewing machine for a more convenient process.
Here are four examples of patches that you can attach to your nylon garment:
1. Applique Patches
This type of patch is available in hand-sewn or machine-made, which you can hand-sew or machine-sew onto your fabric. For example, you can turn an appliqué patch under the edge and blanket stitch it. Or, you can also use close zigzag stitches and zigzag stitches.
Store-bought appliqué patches are available in a wide range of designs. So, you will not have a hard time finding the patch design that you like.
Buy them here: Applique Patches.
2. Reverse Applique Patches
Unlike the first one, this type of patch requires you to keep it on the reverse side of your nylon garment's hole. Meaning, you must trim the gap to fit the contour of the patch. Then, sew stitches around the borders of the hole to keep the patch in place.
People typically use closely spaced zigzag stitches. However, you can also use straight and blanket stitches. Note that the stitching is visible beneath the nylon garment. So, it gives the patch a neat appearance from the outside.
Buy them here: Reverse Applique Patches
3. Hand-Sewn Set-In Patches
Set-in patches are patches that you can sew from the underside of the hole. So, people wear this type of patch on the inside of the garment.
The following is a step-by-step tutorial for sewing a set-in patch:
First, prepare the hole by cutting a square out of the hole. Next, form a 1/4-inch slit on each of the square's four corners. Then, remove the raveled thread as you expand and create the hole.
Cutting the slits creates a border for the square-shaped hole. As a result, the sides are also 1/4 inch thick. To create folds, you must turn and press the edges.
Cut a square patch of around 1/2 inch on all sides. Then again, flip 1/4 inch underneath and press on from all sides.
Keep your patch on the square-shaped hole, ensuring that the right side is facing up, and make sure the patch is pointing in the appropriate direction.
Hem the patch onto the fabric from the jacket's opposite side. Finally, turn the nylon jacket over and sew the hole edges to the patch.
Note that patches applied using this approach adhere to the material for a long time because it hides them from the outside environment. So, the exterior of the garment looks nicer because only the patch design is featured.
Buy them here: Hand-Sewn Set-In Patch.
4. Handmade Overhand Patches
Like applique patches, you will sew handmade overhand patches from the right side of your fabric piece. But this method can be more challenging since you will attach a thin patch onto a thicker fabric. So, you must make sure that the patchwork does not become too apparent.
The following are the actions to take to do this:
First, make a square-shaped hole with 1/4-inch slits on all four sides.
Then, for the patch, you will cut a piece of fabric larger than 1/4 inch in width, with 1/4-inch-thick edges.
Next, you will fold the borders inside for the patch, and for the hole, you will fold them outwards. Then, carry on with them.
After affixing the patch to the hole, you will sew the sides together. Then, turning the jacket inside, you will sew the fabric patch and the hole's edges again.
Buy them here: Handmade Overhand Patch.
Here are five of the best patches on Amazon that you can try for your garments:
Sixty pieces of patches that come in different colors and designs
High-quality patches with hot melt adhesive so you can quickly iron or sew it on
Fifty-two pieces of white alphabet patches that are about two inches in height and width
Made from non-woven fabrics, with durable adhesive with sealant backing glue
It comes with one pair of large gold decals and two pairs of small gold decals.
This exquisite embroidered patch is perfect for dresses and other items that might need a touch of elegance.
Sixty pieces of embroidered patches that come in various designs
The patches have hot melt adhesive on the back, so it might take a little time to sew or iron it on a garment or apparel.
Fifty pieces of assorted embroidered patches that you can iron or sew on your fabric.
Can You Use Iron-On Patches on Nylon?
Ironing patches onto your nylon garments is one of the fastest ways to do it. But, keep in mind that although you can use iron-on patches on nylon, it is best to use the proper temperature to prevent ruining the patch or melting your nylon.
Store-bought iron-on patches are one of the quickest ways to use embroidered patches with minimal stitching. Additionally, these patches come with an adhesive-backed back, and they adhere to the material when you apply heat.
However, it is critical to understand that this is not the most efficient method of sewing a patch onto a nylon garment since nylon, as a fabric, is less heat resistant. You may wind up causing damage to the material. So, I recommend sewing around the borders to keep it in place.
Besides store-bought applique patches or quick online patch solutions, you can also make your patchwork! It can be enjoyable to personalize and wear your patch on your garment. The colors, material, pattern, and shape are all up to you.
But, it is not the most straightforward technique. So, it is best to be familiar with the appropriate methods, needles, and cloth for patches. For example, it is preferable to choose soft yet firm fabrics that are easy to use.
Related: 
How to Iron-On Patches?
For a quick application of iron-on patches onto nylon, you will first turn your iron to the highest temperature and iron your garment to make it warm. Then, put your patch in place and iron it over a cloth or towel to prevent burning the fabric for a few rounds.
If you want to embellish or repair your garment by attaching patches, it is best to learn how to do things properly. So, here is a guide to figure out how to iron-on patches:
Prepare to Iron-on a Patch
1. Determine the kind of patch you have.
Some patches have adhesive on the back, while others only have a cloth backing. So, it is best to sift through your patch to see whether you need any extra materials.
Decorative stitched fabric patches are typically thick and stiff, with what appears to be plastic glue on one side. So they are ideal in concealing ripped or stained fabrics.
Transfer paper patches are prints on one side of special paper that is non-glossy. Unlike decorative patches, these cannot hold ripped cloth together, and the fabric beneath will usually show through if not applied to anything white.
Tip: You can use fusible web to attach patches using a primary textile backing.
2. Take a look at the fabric of your clothes or accessories.
Denim and cotton are the best fabrics for iron-on patches. But as a rule of thumb, the cloth should be at least as heavy as the patch.
Tips:
Check the fabric care label to determine if you can press it. But if not, there will be a crossed-out icon of an iron.
When ironing on patches on polyester textiles, it is best to use extreme caution because the intense heat required might burn or discolor the cloth.
Patches are not appropriate for silk or other delicate textiles.
It is best to use extreme caution when ironing on chenille patches because the yarn is highly heat-sensitive.
3. Take a look at the fabric of your clothes or accessories.
Before you start heating the iron, set out your nylon garment or apparel and select where you want the patch to go.
Tips:
If this is the only patch you wish to iron on your garment, it is best to keep it where you want it to be prominently. Also, it would help if you made the location appear deliberate.
If you intend to iron on extra patches, such as for a girl scout sash or any other collection form, it is best to plan to ensure enough area for additional patches.
Remember that letters and other asymmetrical things will look reversed if you use a printed paper patch.
Iron Your Patch
1. Place the base item on a heat-resistant, flat surface.
If you do not have an ironing board, you can lay the item on a doubled-up bath towel on a solid table. Then, iron the item first to guarantee it will give a good surface for the repair.
Tip: If you are working with a difficult-to-iron garment, you can arrange it so that the section of the cloth that will be receiving the patch is flat against a hard surface.
2. Place the patch in the desired location.
Place your patch on the fabric and make sure that the sticky side is against the base fabric and flat. Also, check that the patch does not look crooked.
Note that the adhesive side is the underside of stitched patches and the image print is on the sticky surface of transfer paper patches.
Place the image on the fabric, facing down. Then, peel away the paper backing once you iron on the patch.
Tips:
If you are using fusible webbing, make sure the fusible web backing is against the fabric.
If you are using a patch that blends in with the fabric, you may need to apply it to the garment's opposite side. But, you must follow the instructions to get the best results.
3. Heat your iron.
Set your iron to the hottest setting your fabric can withstand. Then, make sure you turn off your iron's "steam" option and that your iron does not have water.
4. Cover the patch with a thin cloth.
Take care not to alter the patch's position. Then, cover the patch with a thin cloth or towel to shield both the patch and the surrounding fabric.
5. Place the patch on top of the heated iron and press down.
Keep the iron in place for around fifteen seconds, then press down to put as much pressure as possible.
6. Remove the iron and set the patch aside to let it cool.
Lift the towel and check if you securely fastened the patch by gently touching the edge with a finger and attempting to lift it.
Tips:
If the patch starts to lift, you can replace the towel and iron it for another ten seconds.
If you are using a paper transfer patch, it is best to wait until it completely cools down, then carefully peel off the paper.