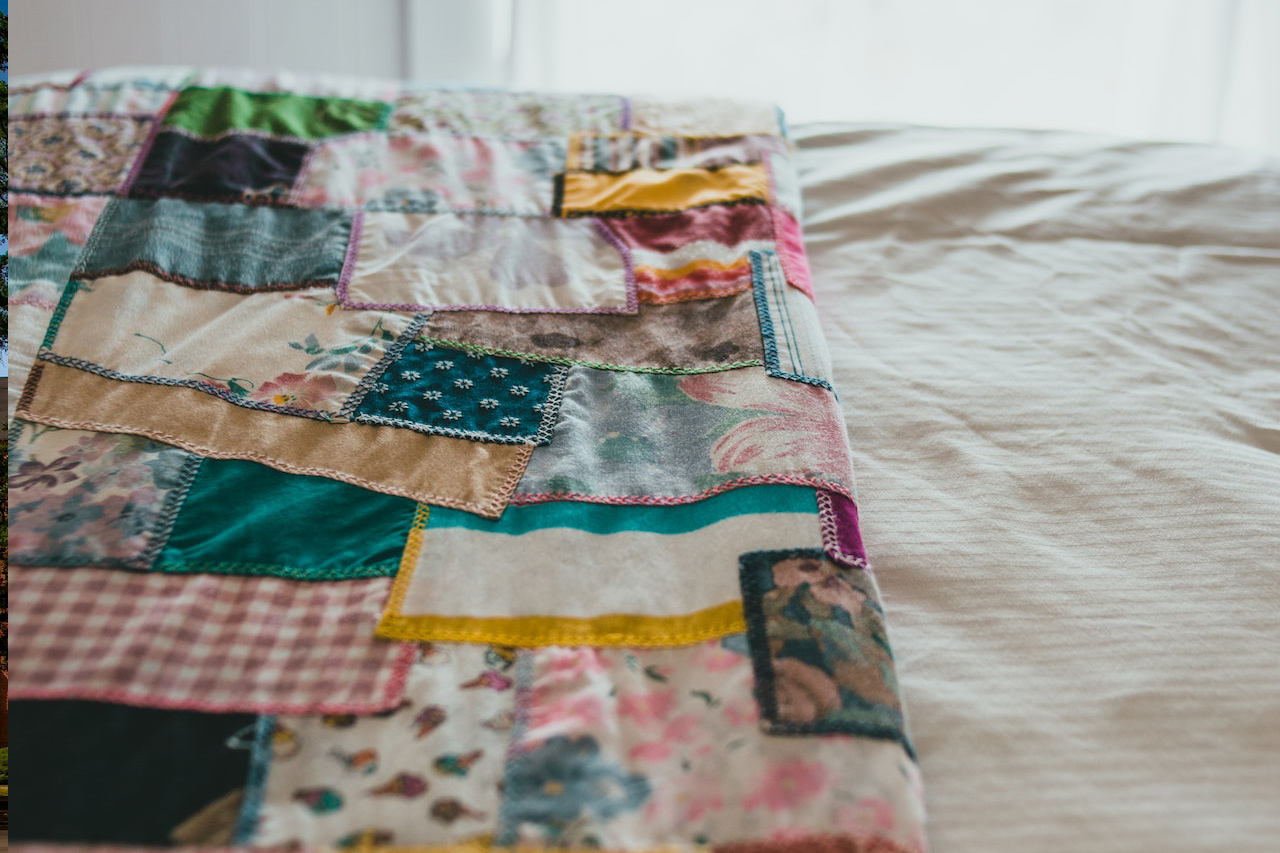 The Norah quilt is a creation of the lady quilters of Sunny Day Supply, a great online fabric shop with pretty and colorful print fabrics. The quilt name is from the recipient of the first sizable single-block log cabin quilt – baby girl Norah.
The Norah quilt is basically a giant version of the Log Cabin block where you can find more opportunities to play with colors and fabric designs.
You can make it out of a center block and 'logs' or strips of fabric. You can make the strips bigger and longer as you go along, depending on the size of your Norah quilt.
Instead of joining several Log Cabin blocks together in a quilt, you can use only one central Log Cabin block and continue adding rows or 'logs' to create one large Log Cabin quilt.
A Norah quilt is quite simple and easy to make. Here are a few steps you can follow to create your own marvelous Norah quilt.
Choose your center block
The center block is the starter patch of fabric for your Norah quilt. You can choose a unique piece of fabric for your center to base your color theme. For some quilters, choosing the center block is one of the vital steps in creating a Norah quilt.
Pick your four primary colors
Choose four primary colors for your quilt. It would be best to gather various shades from your fabric stash for each color you pick. You can arrange your fabrics by placing a bright-colored material alongside a strip with a more subdued tone.
In a Norah quilt, the stepped diagonal line created by the strip piecing should be easy to distinguish. Therefore, you should have light and dark-colored fabrics in each color you choose.
Decide the size of your Norah
With the colors you picked and the fabrics you gathered, you can now decide the size of your Norah.
The Norah quilt is a straightforward method of making a quilt so you can make as big a quilt as you want. You can also make a small quilt which can be a perfect gift to expecting friends or family. The Norah quilt pattern would also look great for bags, pillowcases, ottoman covers, etc.
The size of your quilt determines the amount of fabric you will need to use on your quilt. The bigger you make, the more colors you can incorporate to create a more delightful quilt.
Determine the width of your 'logs'
The first strips of your Norah quilt are short in length. As your quilt grows, you will need longer strips.
As for the width of your strips, it would be best to start with narrower strips and then eventually increase the width of your strips as your quilt grows. An excellent measurement, to begin with, is a two-inch strip, then gradually increasing the width to 3.5 to 4 inches.
Cutting the strips
A piece of good advice for cutting the strips is that you do not need to stick to one width for the strips you will use throughout. To make a Norah quilt, you are wrapping the center block with strips that might eventually bunch up around the center of the quilt.
It will help if you do not make very narrow strips. If you use thin strips, you would have more trips around the center of your quilt that will cause it to warp or puff in the middle.
You can also use wider strips as your quilt increases in size.
Instead of cutting your strips into one size, such as two or three inches only, it would be better if you cut as you go.
Sew your strips one by one
Construct your Norah quilt as you would start with a Log Cabin block. Then, add your strips around the center block as you go along.
Note that each side of your quilt has a designated color. You can work around the center clockwise or counterclockwise; make sure your direction is consistent throughout the process.
Making a Norah quilt is quick and easy, but here are a few tips and tricks from the experts who have stitched these quilts eventually with success.
Tips and Tricks on Sewing a Norah Quilt
A Norah quilt is a stash buster. You can use your smaller scraps of fabric early on in your quilt building while you need shorter pieces. If you need to join strips as your quilt is growing bigger, join strips of similar color to continue the flow of the color.
Keeping a consistent seam allowance of a quarter inch would be best when joining strips together.
Pin your strips together so you will not get tempted to stretch the material as you sew.
When cutting your strips, it would be better to cut them longer at first and trim them if needed. It is better than cutting too short and then stretching the material.
To ensure that you have square corners, use a wide ruler to form squares and corners at the side.
When sewing the strips, do not pull or stretch your fabric in the process of piecing. Just guide your fabric through the machine and let it do the work.
As you sew strip after strip, there might come a time that the strips do not align to form the corners. You can use a wide ruler to square up the corners and straighten the sides. A good piece of advice to follow is to slow down when sewing long straight strips.
Set your seams by pressing them. You can also press as you go, but make sure that you do not distort your fabric or seams.
Making a Norah quilt allows you to use your favorite prints and fabrics in one amazing colorful quilt.
Add a personal touch on Norah quilts that you would give as gifts to family or friends. Use fabrics that would reflect the personality of the recipient.
Since the Norah quilt is more of long strips of fabric, you can add text to make it more exciting. You can use extensive, bold texts or random words or phrases you want to display on your quilt.
You can add a pop of surprising color to your Norah quilt. Some quilters add either black or brown to an otherwise bright-colored quilt.
What is a Strippy quilt?
Strip piecing is one of the best time-saving methods in quilt-making. You sew long strips of fabrics together side by side, then, using a rotary cutter, cut the strips to create smaller units that are already pieced. A Strippy quilt is a quilt type created using Strip Piecing.
Here are several fundamental tips to help you accurately piece your quilts using fabric strips.
Keep your seam allowance consistent
When sewing strips together, keeping your seam allowance to a quarter-inch is essential. Creating a consistently accurate seam allowance can help keep the sizes of the strippy blocks you make equal.
Strip piecing is an easy and fast way to sew fabric pieces together, so there is also a great tendency to get careless about the consistency of the seam allowance. Some sewing machines have a sewing machine with a guide edge to keep your fabric strip lined up against the guide.
Alternate the directions when sewing the seams
When you sew fabric strips together side by side, they will begin to arc slightly if you sew them all starting at the same end. You can avoid the arching or bow of the strips by sewing the new strip where the previous strip ended.
In simpler terms, you reverse the starting point for each new strip. It will also help if you measure as you go to ensure that your quilt measurements are accurate.
Use pre-cut fabric strips
One way to sew fabric strips fast is to use 2.5-inch pre-cut fabric strips called jelly rolls. Some pre-cut strips have a 'pinked' edge to avoid fraying. It would be best if you measured the width of one piece of strip per roll to make sure the width is the same as with other rolls. This way, you will use only the strips with the same width to maintain a consistent seam allowance.
You can cut your fabric strips to get accurate and consistent measurements. The first vital step that you should take is to square up the fabric edges. It is essential to follow this step to avoid having a V-shaped strip instead of a straight one.
You should check at first if the selvage edge is 90 degrees to the yardage edge. Start by matching up the selvage edges. After matching the edges, you can lay your fabric on the cutting mat with the edge you will trim on the right. With a rotary cutter, cut the uneven edge off the right side of your fabric. The trimmed edge forms a right angle to the selvage edge.
Now, you can start cutting fabric strips from your material.
Measure your desired strip width using the ruler, not the mat, to get the most accurate measurement.
For quilts that need to sew several strips together, such as strip quilting, pressing carefully and thoroughly is essential. Doing so can increase the accuracy of getting consistent quarter-inch seam allowances.
It would be even better to press the seam allowances first for them to set before sewing the strips together.
Related article: