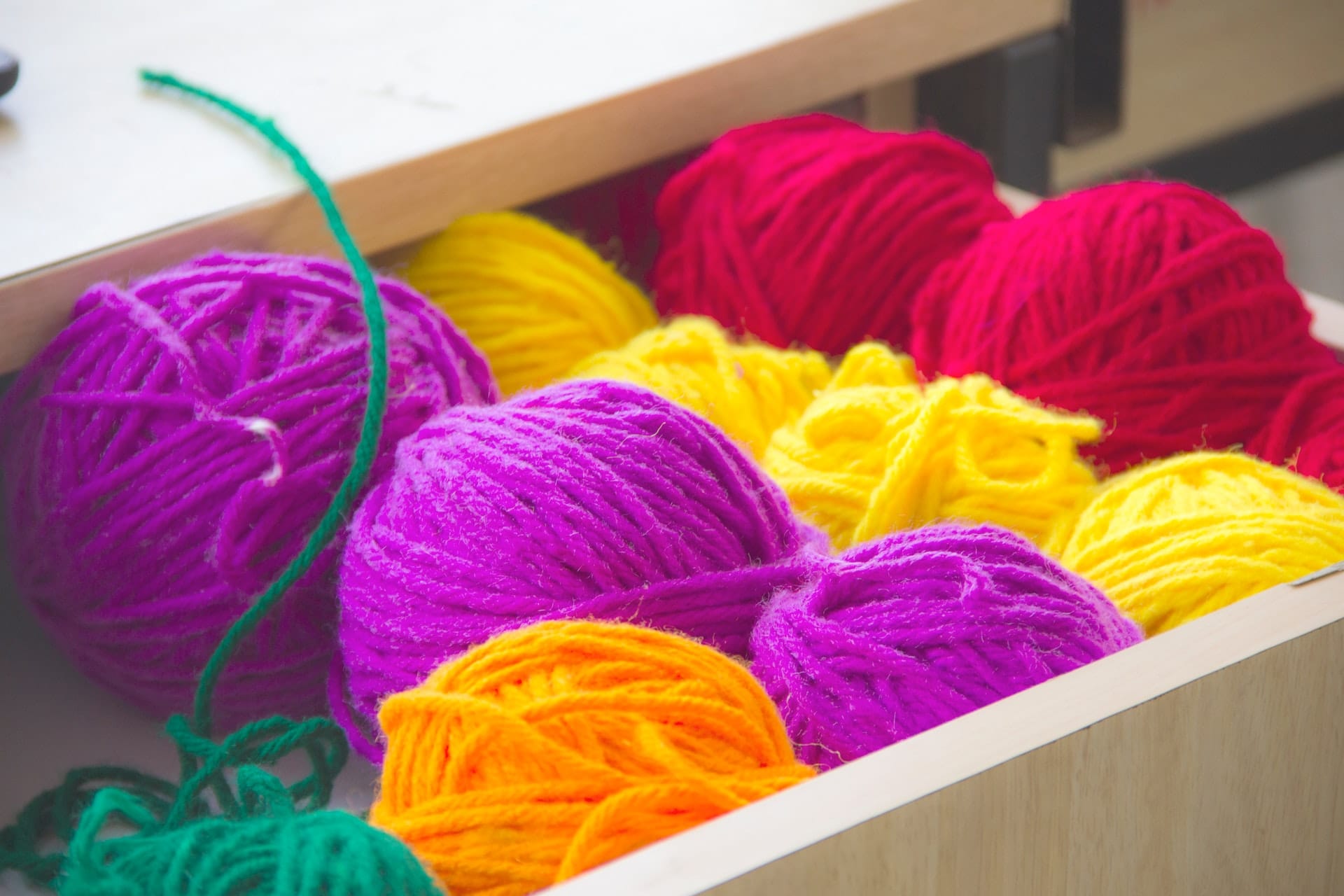 For a beginning knitter who only works with plain colors, alternating colors in knitting may seem intimidating. Alternating colors in knitting is the key to developing your skills in your chosen hobby. Learning how to change your yarns' color will make you want to knit various designs and more interesting patterns.
There are various ways you can alternate colors in your knitting. Any knitter should know to alternate colors in knitting or forever stitch block colors in all projects. There is nothing wrong with knitting using plain colored yarns, but knowing how to alternate colors in knitting will bring you to a new world of knitting as you widen your spectrum in yarn colors and the whole range of designs you can create with your hands and needles.
Knitting stripes is the easiest way to add colors to your knitting. Changing the yarn's color, even for a newbie, is simple and not such a daunting task. For a new knitter, knitting stripes is the most basic way to put more colors on your knitted fabric.
There are more ways you can add color to your knitted fabrics. You can go beyond stripes by knitting with two colors simultaneously with stranding or Fair Isle knitting. You can also knit with the technique using blocks of color, also known as Intarsia, and make bright patterns with mosaic knitting.
How do you change the color of your rows in knitting?
Changing colors in knitting is one important skill every knitter must know, and it is such a simple task. Start by changing the color of your fabric by rows and form a striped fabric. You can choose among these three basic techniques in adding a pop of color to your knitted project.
Change yarn color at the first stitch or any stitch of a row.

Go to the spot where you need to change the color of your yarn. You can change your yarn's color at the start of a row, or you can change color in any stitch of the row. Insert the right needle into the next stitch, then place the new yarn on the needle's tip on the right. Leave a tail around 4 inches that you can weave into the fabric later to secure your first new yarn color stitches.

Pull the wrap through to make a new stitch. Use the new yarn as your working yarn to create a new row or finish your row. Leave also a tail of around 4 inches of the old yarn color to weave in later. The first stitch that changed color is not quite secured and can get quite loose, so the tail needs to get woven tighter to the fabric.

Use a knot to attach new yarn color.

This method requires making a knot that most knitters hate. Knitters love that their fabrics would turn out seamless. Some knitters use this technique but make only a temporary knot to secure the new yarn's first stitches. After knitting an entire row of the new color, you can untangle the knot and weave the tail into the fabric.

To change the yarn color, tie the new yarn around the old yarn strand with a little knot. Leave a tail of about 4 inches for the old and new yarn. You can choose to tie the knot tightly to secure your yarn or tie the knot temporarily to weave in later. Use the new yarn to continue knitting.

Make interlocking loops of the old and new yarn.

The last technique looks a bit bulky but will produce a clean and seamless look. You will have no worries about having loose stitches or knots on your fabric.

Work on a stitch on the row where you plan to alter the yarn color. Measure around 2 inches of the old yarn from the stitch and create a loop by folding it. Insert the new yarn into the loop made, making another loop with the new yarn. The two loops are now interlocking. Knit the next stitch using two strands of the folded old yarn. Pull the old yarn to make the stitch look less bulky and the join tighter. Next, use two strands of the new yarn to make the next stitch.

Continue to knit using the new yarn. Note that you have to count the double-stranded stitches as a single stitch as you proceed with your knitting.

Choose the technique that works best for you or what you are comfortable in to do it repeatedly and feel more confident in changing your yarn colors.
How do you knit different colors in the same row?
Knitting projects look more exciting when you see more colors and more designs. Knitting stripes is not the only way you can incorporate different colors into your knitting.
Knitting with two or more colors in the same row simultaneously is a technique called stranding. A special kind of stranded knitting is called Fair Isle, a traditional knitting technique named after one of the Shetland Islands in northern Scotland.
Knitting Fair Isle patterns usually ask for two colors per row. Fair Isle traditional knitting works by knitting a few stitches in one color. The next few stitches in another color with both yarn balls staying attached to the knitting project always. The color not being used is carried across the knitting's back, making a snug loop called float, before being worked again. These floats essentially add another layer to the knitted fabric, making it thicker and warmer, an excellent material for sweaters, hats, and mittens. Stranded and Fair Isle knitting is usually used in round knitting projects, conveniently hiding the floats on the fabric's wrong side.
Stranded and Fair Isle knitting can have two or more colors in the pattern, creating beautiful fabrics. Once you get the hang of using two or more colors in your rows, it will not feel so complicated than knitting with a single color.
Other techniques for knitting in different colors include Intarsia and mosaic knitting.
What is the intarsia knitting technique?
Intarsia is working with a pattern that comprises knitting with blocks of color. You can make any shape or design that you like using different colors of yarns. The technique differs from stranded knitting and Fair Isle knitting by twisting the threads each time you change colors and not stranding them across the back when not using the yarns.
Intarsia's primary difference from stranded knitting or Fair Isle knitting lies in the location of the colors in the pattern. If the colors are seen across your knitting width, you are working on a stranded or Fair Isle pattern. When doing Intarsia knitting, the colors are more blocked off and do not show up throughout the entire row.
When knitting Intarsia patterns, you have to keep some things in mind to create smooth and even stitches on your knitted fabric.
With Intarsia knitting, changing the yarn's color is similar to joining a new ball of yarn when you are knitting stripes. Leave a few inches of tail to weave on later. Do not cut any threads you have been working with that you will need again on the next row.
Knitting Intarsia on the knit and purl side should be pretty much the same. Note that every time you change the yarn color, remember to twist the yarns to make sure that the different knitting pieces will stay together.
Pick the yarn you are about to use from underneath the yarn you have just finished working with. Doing this step will twist the yarns and join the separate blocks of knitting together. Always twist the yarns when working on knit and purl sides to avoid having holes in your knitting.
Intarsia knitting makes it possible for knitters to create any design they want on knitted fabric using blocks of colors. Intarsia knitting can be worked on straight or round needles and would work best on flat-panel knitting.
What is mosaic stitch in knitting?
Mosaic knitting may be the easiest among the knitting techniques that allow alternating colors, but this is also the least well-known. Mosaic knitting has been around for only 60 years, while knitting dates thousands of years way back. Mosaic knitting is relatively new because it was invented just in the 1960s by a journalist, feminist, a prolific researcher, and a self-taught knitter, Barbara G. Walker. She has written many books on knitting, especially on Mosaic Knitting.
The mosaic knitting method is unique in the way that it involves three elements to make it work – slip stitch knitting, knitting with two colors independently, and using two high-contrasting colors.The technique creates a geometric pattern with the slipping stitches and the two contrasting colors.
Mosaic knitting can use stockinette, garter stitch, or a combination of both to achieve different effects or textures. Contrasting colors of yarn (light and dark) are used to bring out the fabric's mosaic pattern.
Mosaic knitting is a simple technique to learn for those who are testing the waters for colorwork knitting. As long as you already know how to knit, purl, and do a slip stitch, learning mosaic knitting will be easy for you.
With mosaic knitting, you will knit with one color per row or per round. The stitches of other colors on the row are slipped stitches. Usually, two rows or rounds are knitted actively for every color to achieve the mosaic pattern. You can do mosaic knitting on either straight or circular knitting needles to create your geometric designs.
Mosaic knitting is a fun and easy way for beginners to explore colorwork in knitting. Compared to other techniques using different colors, mosaic knitting uses lesser yarn and creates exciting patterns using the most basic knitting stitches.