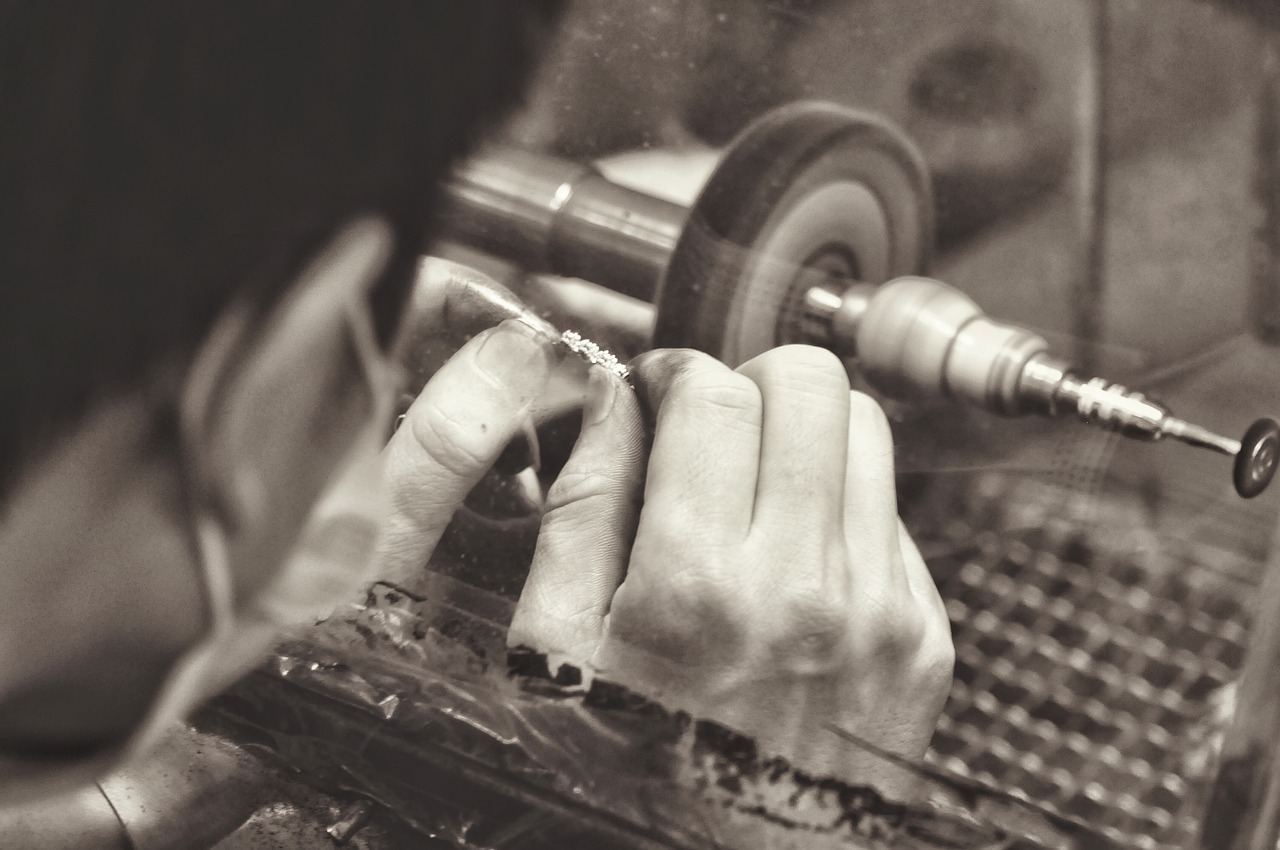 Among many questions about jewelry making, people ask me about the tools I use most often. Many beginners also ask which jewelry-making tools are easy to use, so they do not feel overwhelmed with everything+.
One of the most overwhelming parts of learning jewelry making is knowing which supplies you need. Craft stores and online shops both have so many various tools for different purposes such as high-quality pinch bails for jewelry. Many of them even look similar! So, how do you know which ones to buy?
If you want to make beautiful jewelry pieces, you will need different pliers and a few other things. But before you spend so much on many tools and supplies, you first have to know the basics.
Once you are familiar with the basics and 2814\4understand what they are for, the possibilities are endless! This post will share the most common tools and supplies you need to start your jewelry-making. I also included some tips when using these tools.
Wire Cutters
One of the must-have tools in jewelry making is wire cutters. They will help you cut headpins, ires, and other materials. Every jewelry maker needs this tool, but you want them to be of good quality.
There are many cheap wire cutters out there, but they can wear out quickly, especially when you use thicker wires. Make sure that you buy the best pair of cutters that will last you for years. Do yourself a favor and invest in a good one!
Round Nose Pliers
Unlike wire cutters, you cannot usually find round nose pliers in toolboxes at most homes. It is because these pliers are particularly for jewelry-making. Their round edges are perfect for creating loops and other rounded wire elements.
Their tapering jaws allow you to position your wire along the jaw to get the exact loop size you want. If you want large loops, you need to place your wire closer to the handles. For smaller loops, you need to place the wires towards the tip.
Tip: Mark your pliers with a permanent marker to make consistently-sized loops for your projects. Doing this simple step will help you place wires in the same location every time. You can simply clean the marks with alcohol to remove them.
Chain Nose Pliers
You may use needle nose pliers instead of chain-nose pliers in some instances, and they might work just fine. But remember that flat-jawed chain nose pliers are the best if you want to grip jewelry wire without leaving marks or ridges.
Chain nose pliers also have shorter jaws than traditional needle nose pliers, making them easier to use. You can also use them to open and close jump rings because you can easily manipulate them into small spaces.
Flat Nose Pliers
Flat nose pliers serve as many jewelry makers' go-to tool. Their non-tapered tip and wide surface area make it easier for you to grip jewelry wire. You can also use them to open jump rings, finish wire-wrapped ends, and complete other tasks.
You may want to buy two pairs of flat-nose pliers so you can grasp wires without leaving crimps. One pair will shape the wire, while the other will hold the other end. Ensure that you buy pliers that have smooth surfaces between the jaws so they will not damage your wires.
Crimping Tool
Other jewelry makers use flat or chain nose pliers to smash crimps. But many experts do not recommend it. Smashing the metal will create unsightly sharp edges that can cut the wearer's skin.
The top crimping tools have special notches in their jaws to slightly flatten and round a crimp bead onto wires. You can also use this tool to secure clasps at the end of your projects. Using this specialized tool will help you work on metal without leaving any marks or sharp edges.
Bead Stoppers
If you plan to string beads, you may want to add bead stoppers to your kit. These tools save you time by keeping beads or your freshwater pearls in place on the wire.
Jewelry Wires
If you want to make jewelry pieces, you will most probably work with jewelry wires. They come in different materials and sizes or gauges. Remember that the higher your wire's gauge number is, the thinner it is.
24-gauge wires work best if you need a little extra strength fr heavier charms and beads with larger holes. 26-gauge wires work well with most beads. They are thin enough for wire-wrapping but have enough heft to keep them secure.
28- or 30-gauge wires work best for working with small precious stone beads that have tiny holes. But you need to keep in mind that wire-wrapping these stones onto bracelets is pretty delicate. You need to be careful if you want to make sure that you will not damage them.
Not only will I share you beginner-friendly tools. But I will also share some links to the best tools for jewelry-making on Amazon! You will discover how using the right tools will give you more beautiful jewelry pieces. And I hope you love using them as much as I do.
Related: Best Dremel for Jewelry Making
1. COUSIN CRAFT & Jewelry Making Tool Kit, 3-Piece
Thousands of other jewelry makers and I love this Cousin Craft pack of essential tools! It is one of Amazon's Choices for jewelry pliers set, making it worth checking out! The tool kit includes:
Needle nose pliers with an aqua-colored handle
Round nose pliers with purple-colored handle
Side cutters with pink handles
The handles of the pliers are about three inches so that they would fit your hands perfectly. They are comfortable to use and durable enough to use for many DIY projects. These pliers are also beginner-friendly, which is essential if you do not want to feel overwhelmed by using these tools.
Note that there are oils on the pliers to keep them from rusting. But you do not need to worry because it does not affect the pliers' quality in any way.
Buy it here: COUSIN CRAFT & Jewelry Making Tool Kit, 3-Piece.
2. WORKPRO 7-Piece Jewelers Pliers Set
One of the best things about this WORKPRO set is that you can find it as Amazon's Choice for jewelers' tools. Its material is drop-forged carbon steel, so you know that they are strong and durable. They also have soft plastic grip handles that ensure comfortable use while crafting.
This seven-piece pliers set is a perfect jewelry-making kit, especially for beginners. It comes with a durable zipped pouch to keep your tools organized. Almost every basic tool is in this set, so beginners will have no problem buying tools one by one. The set includes:
Nylon jaw pliers
Round nose pliers
Bent nose pliers
Diagonal cut nose pliers
Flat nose pliers
Wire looping pliers
Brass ring
These pliers are not too big and not too small, so you can carry and hold them conveniently. They have a nickel-plated surface for durability and rust resistance. These handy tools also feature double and rounded springs for a more ergonomic grip handle.
Even if you are a beginner, these pliers set will work perfectly for your projects! They are easy to use and sturdy enough for many various DIY crafts. You also save your money by buying this set instead of the expensive ones because they do the same thing.
Buy it here: WORKPRO 7-Piece Jewelers Pliers Set Jewelry Tools Kit with Easy Carrying Pouch (Blue).
3. SHYNEK 3-Piece Jewelry Pliers
Another excellent choice from the best tools for jewelry making is this SHYNEK pliers set. It is perfect for jewelry making, repair, and many other DIY crafts. The package comes with a set of three jewelry pliers, including:
Needle nose pliers
Round nose pliers
Wire cutters
This three-piece pliers set is another Amazon's choice for jewelry pliers, and over a thousand buyers love this item! Their material is heavy-duty steel metal, so you know that they are strong and durable enough for various crafts.
They are an excellent choice for beginners and will get the job done. Note that there may be oil coating on the pliers' heads. But you do not need to worry because these oils only help prevent rusting. You can wipe them clean with a clean cloth before use.
Buy it here: SHYNEK Jewelry Pliers, 3pcs Jewelry Making Pliers Tools with Needle Nose Pliers/Chain Nose Pliers, Round Nose Pliers, and Wire Cutter for Jewelry Repair, Wire Wrapping, Crafts, Jewelry Making Supplies.
4. PAXCOO 19 Pieces Jewelry Making Tools Kit
This PAXCOO jewelry-making tool kit is one of the best on Amazon! You will even find it as Amazon's Choice for jewelry repair tools. You cannot go wrong with buying this set! It has almost everything you need for your jewelry-making projects, including:
Round nose pliers
Chain nose pliers
Jewelry wire cutters
Six pieces of different size needles
Two pieces of tweezers (one straight and one bent)
One plastic caliper
One awl
One jump ring opener
One bead embroidery needle
One pair of thread scissors
One tape measure
One needle threader
You get so much value for your money with so many tools included in this fantastic kit! The tools also come with a premium black zipped pouch to keep your tools organized and safe. This tools kit will easily help you create jewelry pieces that are both beautiful and safe to wear.
Note that, like many other pliers from different stores, the pliers included in this kit have oils on them. These oils are necessary if you want to prevent rusting and keep the pliers' best condition.
Buy it here: PAXCOO 19 Pieces Jewelry Making Tools Kit with Zipper Storage Case for Jewelry Crafting and Jewelry Repair.
5. THRILEZ Wire Wrapping, Jewelry Making Supplies Kit
Are you tired of all these kits that only include pliers? This Thrillez kit is the perfect jewelry-making supplies set for you! And, yes, it is also Amazon's Choice for wire wrapping kits! The package includes:
Round nose pliers
Chain nose pliers
Flush cutters
One clear beading string cord
One 0.5mm silver jewelry wire
One 0.5mm gold craft wire
One 0.5mm bronze copper wire
One 0.5mm coffee jewelry wire
One 0.5mm black jewelry craft wire
One pair of tweezers
One caliper
One aw
One jump ring opener
One thimble ring
One thread scissors
One tape measure
Three needle threaders
Six beading needles
Twelve styles of jewelry findings
There are so many tools and supplies included in this kit, making it perfect for every beginner! With the essential tools you need, this Thrilez will easily help you make beautiful pieces of jewelry pieces. It will make your jewelry-making hobby affordable or less expensive, too.
Note that the pliers have oil coating to protect them from rusting. You do not need to worry if your pliers look oily or dirty. You can just wipe them with a clean cloth before use. Remember to apply oil before storing them after use to prevent rusting.
Buy it here: THRILEZ Wire Wrapping Jewelry Making Supplies Kit with Jewelry Wire, Jewelry Tools, Jewelry Pliers, and Jewelry Findings for Jewelry Repair, Wire Wrapping, and Beading.